By: Briana Smith, Social Media & Product Branding Specialist & Melissa Fortin, Regional Human Resources Manager, WAXIE Sanitary Supply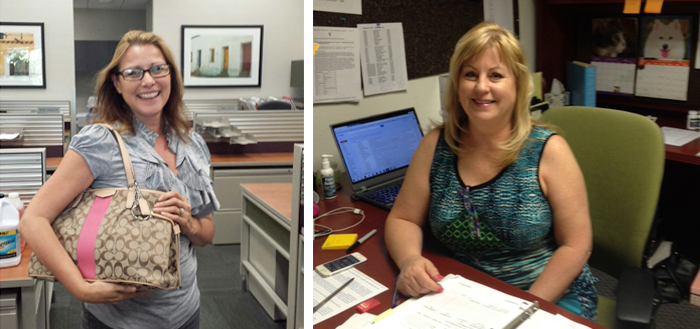 THANK YOU to everyone who participated in both the Coach for a Cause Raffle on Thursday, May 1st, as well as the 50/50 Raffle held at the 1945 Customer Appreciation Day event on Wednesday, May 7th!
Congratulations to Barbara Corral! She is the 2014 winner of the Coach for a Cause fundraising raffle and now is the owner of a lovely Coach purse. We raised an amazing $575.00 that will all be donated to The Making Strides Against Breast Cancer Foundation.
We also had a 50/50 Raffle during WAXIE Arizona's 1945 Customer Appreciation Day with both a drawing only for customers, and a separate one only for vendors. Tickets were $2.00 each, 3 for $5.00 or 7 for $10.00. A 50/50 Raffle has 50% of the money collected going to the raffle winner and the other 50% will be donated to The Making Strides Against Breast Cancer Foundation.

We raised a grand total of $928 between the two raffles - $614/customer & $314/vendor!
The winner of the customer raffle was Deni General, the General Manager for CGMP/Snore Formula, and the winner of the vendor raffle was Don Ward, the VP Sales - Western Region for Georgia-Pacific Professional.
All of the WAXIE divisions are participating in the American Cancer Society's Making Strides Against Breast Cancer walks across the US. WAXIE Ontario's walk was only two weeks ago (view photos). We'd love for you to join us in fundraising, walking with Team WAXIE or participating in any way you can.
We appreciate your continued support and are looking forward to more fundraising events to come in the near future.


READ MORE:
American Cancer Society
ACS Making Strides Against Breast Cancer
San Diego's Making Strides Against Breast Cancer Kick Off Breakfast