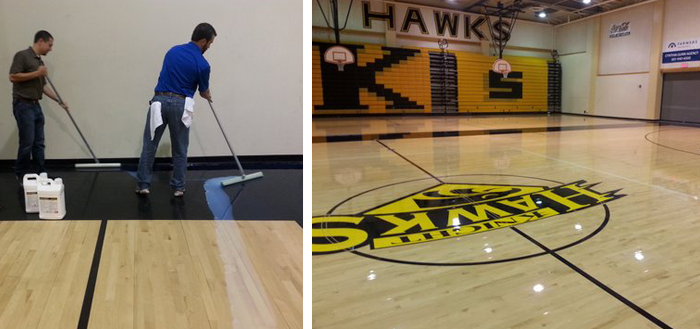 Photos taken at WAXIE Ontario's Gym Floor Care Seminar at Pete Knight High School in Palmdale, CA on April 8, 2014
By: Tom Ciccarone | April 24, 2014
1. Know Your Area
Square footage, facility events, spring breaks and more can play a factor into preparing to refinish a gym floor. Square footage – this is key to have an accurate knowledge of how much area will be refinished. Varying finishes alongside individual application techniques can have certain finishes cover anywhere from 200 to 800 sq ft per gallon. Price per gallon can be deceptive, know your product and break it down to price per foot to ensure you know exactly what bang you are getting for your buck.
2. Preparation is Key
Have you ever been in the middle of finishing a floor and someone walks directly through your path of freshly paved floor finish? Have a strategy. Know where you will start with the finish and where you will end. Do not block yourself in. Any access points to the floor should be taped off (caution tape or bright orange hazard tape), locked and blocked. Place flyers on the doors explaining how long the facility will be closed. Ensure you save time and efforts by bringing all the product and tools necessary for the job to one central location that is easily accessible to you and your crew. This saves downtime and having to leave your job in the middle of an application to pick up a simple tool that could have been gathered earlier.


3. Measure the Weather
You may be thinking, what does the weather have to do with my finish? Most finishes have instructions that say allow a specific amount of dry time between coats. Do not wait that exact time and immediately begin another coat. Be aware of humidity and temperature as both factors can lengthen or shorten the dry time. A good test of whether or not the floor is ready for another application, place a piece of paper on the floor in front of you and move it across with your hand. If it moves smoothly, you should be good to step on the surface. If it is sticky or moist, allow more time and perform the test again.
4. Don't Go It Alone
Applying floor finish, specifically on larger surfaces such as a gym, should never be done alone. It is important to have properly trained staff that can assist you in the scrubbing and preparation, application, and setup / clean up. Ideally in most gyms that use a T-Bar as an applicator, three people are needed for the application process. One person applying a bead of finish and two individuals 'pulling' the finish with the T-Bars.
5. Allow Cure Time, Not Just Dry Time
Sure, you may be able to walk on the surface within a few hours, but what is the manufacturer's recommendation for cure time. What is the difference between dry time and cure time? In a gym facility we keep it simple – you can walk on a dry court but you can bring out the balls and the running on a cured court. This can vary between products – anywhere from 24 hours (WAXIE Ultra Sport) to five days.




READ MORE:
Cleaning, Maintaining, and Encapsulating Asbestos Tile
Frequency for Cleaning & Maintaining Hard Flooring Surfaces
Is Stripping Your Floors Taking Too Long?
Messed Around and Got a Triple Double – All-Star Gym Floor Care
Preserving History: Restoring UCLA's Royce Hall's Hard Wood Floors