By: Barbara Shapiro, Sales Administrator; Lea Pein, WAXIE Sanitary Maintenance Consultant; Briana Smith, Graphic Designer – WAXIE Sanitary Supply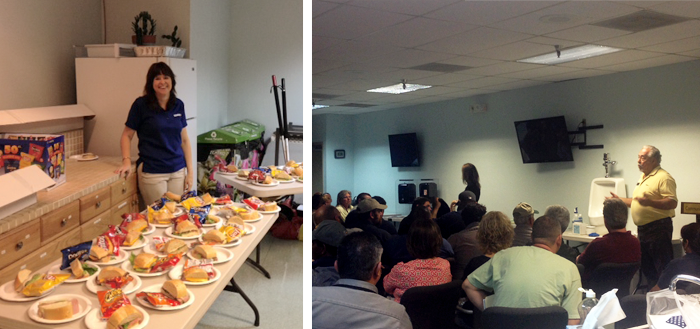 We had a wonderful turnout of 43 attendees for WAXIE's Total Restroom Care Seminar at the Community Food Bank of Southern Arizona in Tucson, AZ.
Since restrooms take up only 5% of the space in a facility, yet receive 90% of complaints, total restroom care cleaning & maintenance is a very popular topic. In addition to reviewing our eLearning online training modules, which includes information on daily and deep cleaning for restrooms, we also tackled some common misconceptions of restroom cleaning, new innovations, as well as reinforcing the basic Standards of Cleanliness.
Paper Towels vs. Hand Dryers
Laurel Kronengold with SCA Tork, one of the most eco-friendly paper manufacturers in the world, shared some interesting and surprising facts and figures on the perception of hand dryers vs. paper towel systems. She compared the two regarding cost effectiveness and how environmentally friendly both hand drying techniques are. For more information on this debate, read Paper Towels vs. Hand Dryers. Either way, having the necessary supplies for handwashing & drying is very important for good hand hygiene.


Odor Control
The #1 restroom complaint – odor control – was addressed on several fronts. Damian Cox, President and CEO of Ecoblue, shared case studies of waterless urinal issues versus controlled flush urinals and toilets. He then explained how the Ecoblue system eliminates odor, reduces plumbing costs and can extend the life of waterless urinal cartridges if a waterless urinal is already in place. Damian also pointed out that money can be saved as rebates are now available in some states and regions for those who switch to water efficient urinals. Different areas have different requirements, so make sure that you check with your city.
Southern California (including San Diego) Rebate Programs: http://www.socalwatersmart.com/
Urinals eligible for rebates in Southern California: http://www.socalwatersmart.com/images/PDFs/met-cii-lzwu.pdf
Water Conservation rebates for Tucson, AZ: http://www.tucsonaz.gov/water/rebate
Tucson's High Efficiency Urinal Rebate Program: http://www.tucsonaz.gov/water/heu
Chris Linck of CLA, a rep for Eco Fresh, shared the innovative Eco Fresh Restroom Deodorizing System with a variety of products that can be layered for long lasting deodorizing. These deodorizers are 100% recyclable and freshens restrooms for 30 days. Of course, these are no substitutes for leaks and drain issues, which can also cause odor problems. It's always best to fix these problems as soon as they occur to prevent damage to fixtures, cabinets, counters, stall partitions, flooring, etc.
Daily and regular deep cleaning paired with time and money saving innovations means that odor control is no problem!


Tile & Grout Cleaning
Our Chemical Specialist, Ryan Pace, reviewed the importance of tile and grout cleaning, which is the most common floor surface in restrooms. Even if your tile is clean, discolored and dingy grout and dirty baseboards from standard mop and bucket cleaning can leave restroom occupants with less than the desired impression. Ryan gave an overview of restroom cleaning & maintenance procedures, and then demonstrated WAXIE's Grouted Tile Maintenance System using our Fast Glide Mopping System to restore, clean and even seal grout & tile. We can bring most of these floors back to enjoy for years ahead!
Power of Mechanization
Tools and/or equipment to increase productivity and user safety were also highlighted at our seminar. There are many different options to choose from to aid in daily and deep restorative cleaning. If you're looking for a machine that is great at scrubbing tile flooring, look no further than the Windsor Pivot™ 16" Dual Brush, Cylindrical Floor Machine (#571178), which has concentric dual brushes that are fantastic at reaching and cleaning grout. The Windsor TAZ (#575800) is a more versatile orbital cleaning machine that is easy-to-use, deep cleans with a tile & grout brush and a weight kit, and can be used on multiple floor surfaces in addition to restroom tile flooring, including carpet encapsulation, polishing marble, etc.
The Advance Reel Cleaner™ All-Purpose Cleaner (#577440) and the Windsor Compass™ 2 Specialty Surface Cleaning Machine (#573936) are two other great options. Both of these machines can disinfect and clean EVERYTHING in the restroom. These are all-in-one units that can clean around toilets, power wash restroom stall partitions, dispense cleaning chemicals, come with several cleaning accessories, etc.
Properly using any one of these pieces of equipment in conjunction with your restroom cleaning routine will help raise productivity levels, while saving time and money. It was great talking with attendees to discover what concerns and needs they have regarding restroom cleaning.


Here is some feedback that we received:
"There are a lot of things that I learned about today that our company is not doing with restroom cleaning, but should be doing."
"I want to sign up for more seminars!"
Several attendees also received raffle prizes before we concluded with a delicious lunch. Thanks to all who attended!
We hope YOU can join WAXIE Tucson or WAXIE Mesa for our next event on Hard Floor Care & Maintenance in March!
For information about WAXIE's upcoming seminars, please visit us at: http://info.waxie.com/events/