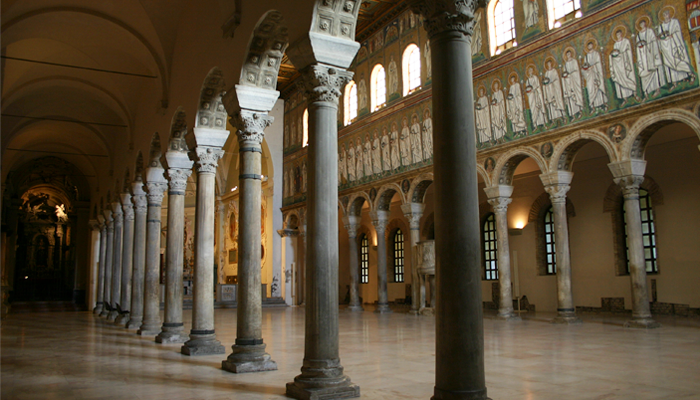 The interior of the Basilica di Sant-Apollinare Nuovo, Ravenna, Italy with it's 16th century marble floor tiles
By: Briana Smith | January 30, 2014
As I stuffed my stamped entrance ticket into my pocket and pulled open the wooden door, I was temporarily blinded by going from the bright sunlight outside to the darkness inside.
I stepped further into the musty building, the room brightening considerably from the light that gently filtered into the nave from the plain glass clerestory windows. My boot heals clicked as I walked across the marble floor tiles, gazing in wonder at the scenes in front of me. A glittering array of gold, carmine, lapis lazuli, jade, black, white (and everything in between) tiles decorated the walls forming breathtaking mosaic frescos that depicted early Christian motifs. Amazing! How on earth has all of it survived intact for this long?


This past November I had the opportunity to travel to Italy on vacation. One of the most memorable places that I visited was Ravenna, an ancient Etruscan city that eventually became the capital of the Western Roman Empire. Ravenna is known for its UNESCO Heritage Sites of early Christian monuments, which are particularly unique as they house some ah-mazing mosaics from the 5th & 6th centuries. The experience I described above was how I felt upon entering the Basilica di Sant-Apollinare Nuovo, an ancient basilica (circa 500 AD) that has seen several empires come and go over the centuries.
Now...you may wonder why I'm recapping my vacation on a cleaning blog. Well, as I was gawking at the magnificence of the mosaic artwork at Sant-Apollinare Nuovo, I happened to notice something strangely familiar in the corner of the room near the entrance. It was a walk-behind autoscrubber! And an Italian one at that. Not that I think that North Americans are the only ones using cleaning equipment or anything, but it's like coming across foreign candy in the supermarket. It's just cool. Naturally I just had to take a picture! Occupational hazard I suppose.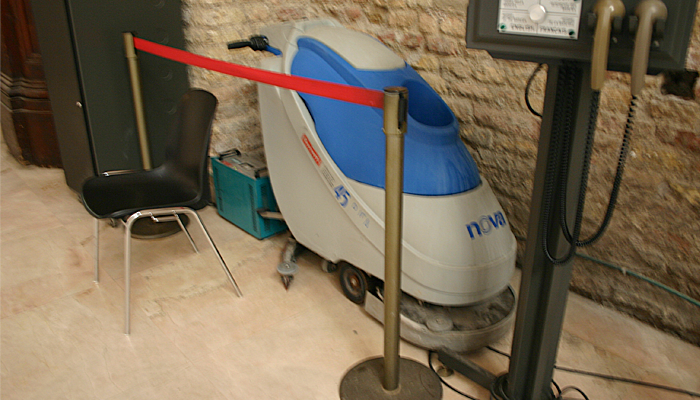 A rather blurry photo of the walk-behind autoscrubber in Sant-Apollinare

Once I returned home I sort of forgot about it until I started digging through my thousands of photos and came across the ones from Ravenna. This in turn brought back my first thought upon sighting the autoscrubber in the basilica, "They clean centuries old floors with a modern day autoscrubber?" One of my coworkers asked me what I thought they cleaned the floor with, and I had realized that I had never considered it becuase the majority of the buildings around me aren't all that old and favor modern construction materials and design. However marble flooring seemed to be the material of choice for building construction throughout Italy for centuries as it was readily available, durable, and of course, stunning.
Professional curiosity got the better of me, and after a bit of research I found out some interesting information regarding the floors of Sant-Apollinare Nuovo. The current floors that I had traversed are not in fact the original ones from when the basilica was erected, but from a 16th century restoration, so they were not quite as old as I first assumed. It is speculated that the floors were heightened about 4 inches so that they would be at the outside street level, which had changed over the years. This makes me wonder if the original floors are underneath, and if they are of mosaic design as well because earlier in the day I had visited the nearby Basilica di San Vitale (circa 546/556 AD) and they let visitors walk on the 16th century mosaic floors!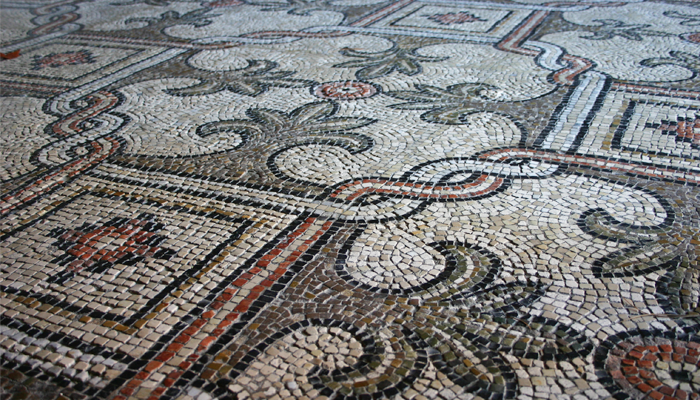 The 16th century mosaic floors in the Basilica di San Vitale, Ravenna, Italy


I guess it really is no surprise that an autoscrubber is used to clean the marble flooring. After all, many buildings today have natural stone flooring that cleaning professionals maintain with daily, interim & restorative cleaning procedures to make sure that they stay looking great and handle the wear and tear of foot traffic.
The most important thing to remember when you are cleaning your natural stone floors is that not all products for stone floor care work for every type of stone material. READ the label carefully to make sure that you can use a particular cleaning chemical for your floor, as the chemical makeup varies from stone materials and they can react differently to the product sometimes ruining the floor.
As a side note, I also noticed an Italian floor machine in another cathedral while in Italy, perhaps the Duomo in Florence, but I refrained from taking too many vacation photos of cleaning equipment. If you ever have the opportunity to visit Ravenna, I highly recommend it, and not just for possible autoscrubber & floor machine sightings!


---
Briana Smith is WAXIE's Social Media & Product Branding Specialist and spends quite a bit of time skimming the news for what's new in cleaning, sustainability and technology while managing all of WAXIE's social channels. She especially loves posting about #teamwaxie activities & conversing with customers on Instagram. Briana has a Bachelor's Degree in Communication Design from California State University, Chico.


---

Read More:
Basilica of S. Apollinare Nuovo: Justification for the inclusion to the World Heritage List - http://www.turismo.ra.it/binary/turismo_ravenna_new/arte_monumenti/apollnuovo.1102598801.pdf

Ravenna Mosaic Monuments Website
Opera di Religione della Diocesi di Ravenna - http://www.ravennamosaici.it/index.php?lang=en