By: Barbara Shapiro, Sales Administrator, WAXIE Sanitary Supply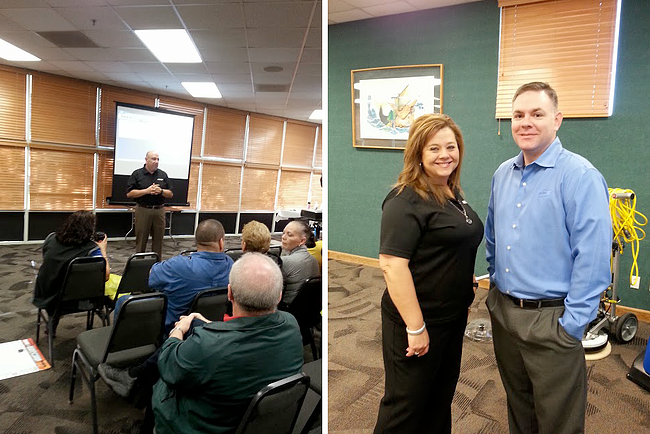 24 attendees eagerly learned about the importance of routine, interim and restorative carpet care procedures by the WAXIE Tucson staff at our Carpet Care and Maintenance Seminar at the Jewish Community Center in Tucson, AZ last week. In addition to regular & ongoing maintenance cleaning procedures, we also covered helpful carpet cleaning tips, such as:
Carpet spotting techniques: Try removing as much of the spot or stain by blotting with a soft towel or cloth and with water extraction before using a carpet spotter. Blotting makes sure that the spot stays contained & doesn't spread, as opposed to rubbing a spot, which will set it. Also, blotting will remove most of the excess moisture from the carpeting material making the use of a carpet spotter much more effective.
Avoid those rust & furniture marks: Use furniture tabs when moving furniture back onto wet carpet to prevent metal legs, etc. from leaving unwanted spots and creating more work to keep clean.
Our knowledgeable staff also demoed WAXIE's new Facility Maintenance and Management Program, which is an online training program that our customers can access 24/7 (once they've registered through their Sanitary Maintenance Consultant). All of WAXIE's online training courses have several modules containing video, audio, interactive exercises, photos, tips and short assessment quizzes. When an employee completes a module, he/she receives a certificate of completion via email. Since this was a carpet care seminar, instructors showed the attendees some of the carpet care & maintenance modules. Online training is a great tool for training personnel or even as a refresher.
After participating in the educational portion of the training, WAXIE, TRC Marketing, Inc., ASM Waypoint, NSS and Straight Representation, Inc. representatives reinforced the procedures covered in both the classroom & online training with actual hands-on carpet care cleaning tools & techniques. Various floor machinery & accessories were demoed including carpet extractors, (upright, backpack & wet/dry) vacuums, carpet dryers, etc.
Our attendees had plenty of time to ask our experts questions at different stations regarding the best cleaning chemicals for the task at hand, including the benefits of encapsulation carpet products.
We received some great feedback after the seminar:
"All the information we received was very helpful to do our jobs better."
"Great presentation. Looking forward for next."
"Good presentation, always informative."
"Friendly not boring!"

Thanks to all who attended. We hope YOU can join us for our next event on Restroom Care in February!

For more information regarding WAXIE's Facility Maintenance and Management online training program: http://info.waxie.com/events/events/online-training/