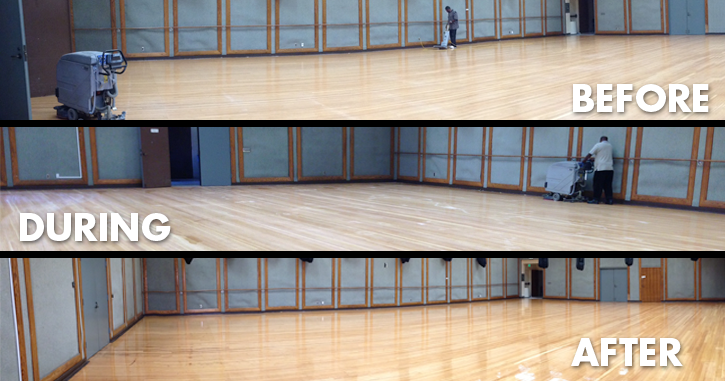 By: Briana Smith & Tom Ciccarone | August 29, 2013
UCLA's Royce Hall has been an institution in Los Angeles for over 90 years. It has hosted acclaimed orchestras, musicians, performing artists & speakers since 1929 when the building was completed. It even survived the 1994 Northridge earthquake, even though it was heavily damaged and had to be renovated. One thing that hadn't been touched much though was the original hard wood floors in the studio area installed in the mid 1920's and they were looking rather worse for wear.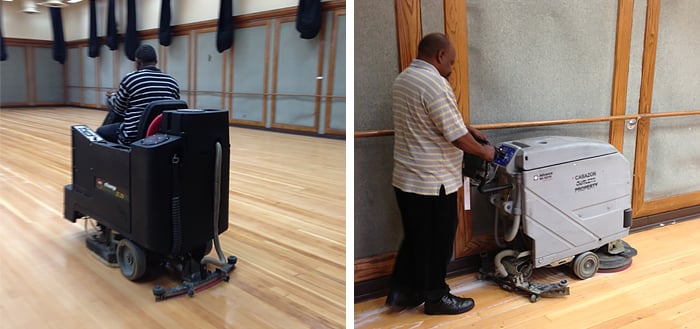 In July 2013, Mike Anderson (Equipment Specialist – WAXIE Ontario) and Tom Ciccarone (Chemical Specialist – WAXIE Ontario) had the opportunity to help UCLA's Royce Hall crew with their 3,750 sq. ft. studio used for rehearsals, staging, practice & various other activities for Royce Hall's main stage. After conversing with the client, it was decided that the introduction of our Ultra Guard Premium Wood Floor Care Program was a necessity to extend the life of their current wood floor. This wood floor has not been touched in many years and it was in much need of some TLC.

Here's Tom's account of the hard wood floor restoration & the training of the Royce Hall cleaning crew. The UCLA crew was extremely happy with the end result!
Mike and I arrived at 7:00am and initiated our training with the Royce Hall crew by instructing the custodians on scrubbing the floor with our WAXIE Pure Rejuvenator Cleaner & Restorer product. The product was applied with two separate autoscrubber machines, a process with which the UCLA staff was already familiar with.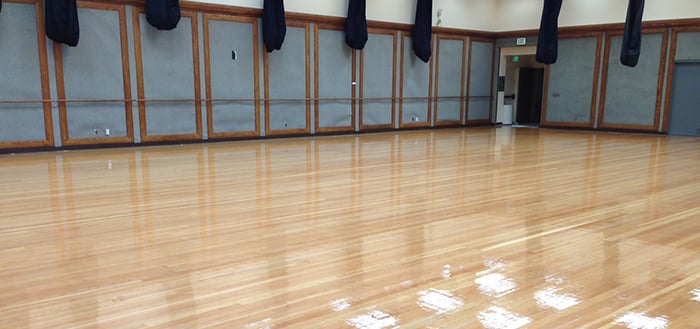 After a deep scrub, the floor was neutralized and prepped for our training on the application of our Ultra Sport Premium Wood Coating floor finish. Mike and I instructed the crew on the proper application of the product with the use of two separate 24" Weighted T-Bars.

After the first coat, we waited approximately two hours for the first layer to dry. Once the floor had fully dried, we instructed the crew on the proper application of the second coat to finish the job. After 3,750 sq. ft. and six hours of training with the UCLA crew, the finished product speaks for itself!

Mike and Tom also went over daily & interim maintenance procedures so that the UCLA Royce Hall crew could maintain the hard wood floors to look their best at all times year-around. In the future, they should only have to recoat the floors once a year, and if they use WAXIE's Ultra Guard Premium Wood Floor Care Program, than they can complete the process in one day!
------------------------------------------------------------------------------------
Read More:
Cleaning, Maintaining, and Encapsulating Asbestos Tile
Hard Floor Care Solutions
Synthetic Floor Care
Tile & Grout Maintenance
Ultra Guard Premium Wood Floor Care Program