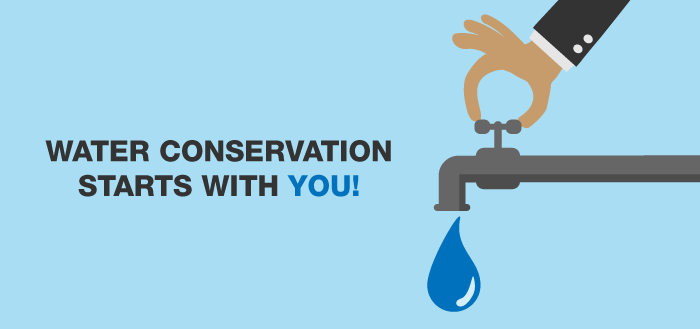 By: Briana Smith
It's World Water Day – a day to reflect on our own water use while recognizing the world's water crisis.
As Americans, we often take our abundance of clean water for granted. With the exception of the Flint, Michigan water crisis and regional droughts, most people in the United States give no further thought to their water source past the tap. In contrast, according to UN-Water, "Today, 1.8 billion people use a source of drinking water contaminated with feces, putting them at risk of contracting cholera, dysentery, typhoid and polio."1
On average, most Americans use between 80-100 gallons of water per person per day2 and the United States is one of the highest users of water in industrialized countries.3 This usage is not sustainable for the long term. As our population increases, no one can predict what the water supply will be like in the future. Conservation is key to our continuous water supply.
Easy access to clean water is a valuable resource that we all must protect. Below are some small steps we can all take towards conservation.
World Water Day 2017: Why Waste Water?

Source: UN-Water – Are you a waster?
If you live in a drought prone region, you may be familiar with these conservation tips:
Take shorter showers Turning off the water spout while brushing your teeth
Only wash full loads of laundry
Swap out fixtures & toilets with ones that reduce water
Fix leaks as soon as they appear
Replace heavy water consuming landscaping with native plants & landscaping that uses less water
Install drip irrigation for outside landscaping and watering early in the morning and late afternoon to reduce evaporation
What Facilities Can Do To Conserve Water
The EPA's WaterSense site contains a wealth of information on how commercial facilities can reduce and manage their water use more efficiently.
Facility managers can also benefit from water-wise fixtures & cleaning supplies:
The Future of Wastewater & Greywater
Aside from conservation, wastewater production deserves scrutiny and an equal amount of consideration. Wastewater is the water that just washes down the drain. Approximately 80% of that could be reused for other purposes!4
As it relates to wastewater, the term 'greywater' has gotten more attention in the last several years. Greywater is the wastewater from everything except used toilet water (due to human waste) and sewage that has been treated. Greywater comes from sinks, showers, washing machines, etc. and can be recycled for use for toilets and landscape irrigation.
Fortunately wastewater and greywater treatment is gaining traction in municipalities around the world, spurred on by droughts and limited water resources. One of the largest operations is led by the Orange County Water District's "toilet-to-tap" water treatment plant, which can process wastewater (and sewage water!) into drinking-quality water.
"The district uses reverse osmosis and filtering technology to exceed state standards for drinking water, and then it pumps that water underground to refill its groundwater basin and aquifers."5
The operation has been so successful that in late 2016 the District announced expansion plans for the second time.
Additional Information on World Water Day
Check out the UN-Water website for stories and to learn more about World Water Day, the state of water resources around the world, water usage education, and the evolution of wastewater.
Briana Smith is WAXIE's Social Media & Product Branding Specialist and spends quite a bit of time skimming the news for what's new in cleaning, sustainability and technology while managing all of WAXIE's social channels. She especially loves posting about #teamwaxie activities & conversing with customers on Instagram. Briana has a Bachelor's Degree in Communication Design from California State University, Chico.
SOURCES: