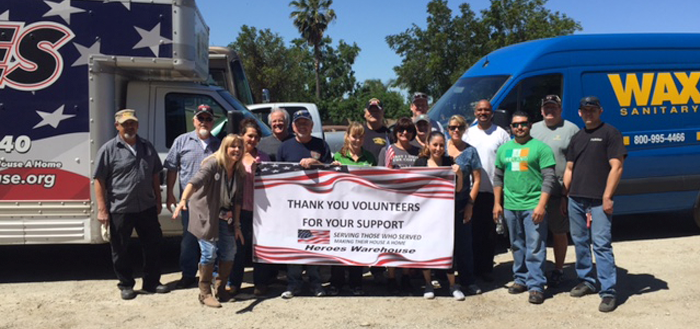 WAXIE Ontario Community Service Day at Heroes Warehouse – Fontana, CA
April 1, 2017
By Stacy Main
What a GREAT organization…"Heroes Warehouse"! Mary Mohr who started this charity a few years ago has a huge heart. This organization assists American veterans who were previously homeless or in need by providing items such as furnishings, sanitary products and supplies to help them fill their homes. WAXIE Ontario has supported this organization for the past 2 years and will continue to support our local veterans.
On Thursday, March 30, 2017 many WAXIE Ontario volunteers, as well as our vendor partner Katie Willis from Heritage Bag, came together to help fill what we call "Welcome Home" baskets (laundry baskets containing cleaning supplies and household goodies). We also filled 50 canvas bags for our SHEROES (female veterans) with sanitary items and personal hygiene supplies.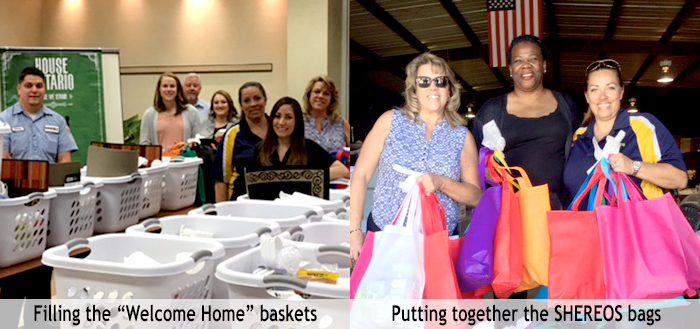 Early the following Saturday, April 1, 2017 many of the WAXIE Ontario sales and management teams, including General Manager Bob Gattis, Regional Sales Manager Don Lloyd, Operational Manager Gene Kearns, along with a couple of our other vendor partners, Robert Viola from Rubbermaid Commercial Products and Tim O'Boyle from Zep, met up to volunteer at the Heroes Warehouse. Once everyone arrived we were introduced to three of our local American veterans: Frank, Armondo and Martin.
We started our morning with "Coffee Talk" where each veteran introduced themselves and then spoke about where they served, their life now and how Heroes Warehouse has impacted them. Many of us were in tears or just on the verge just listening to what they have had to live with all these years, and knowing that there are organizations out there, like Heroes Warehouse, has helped them through the difficult times.
After our "Coffee Talk" was over, Team WAXIE & friends took on the task of helping to clean, organize, fix and repair items in the warehouse. Our team split into groups where some helped to clean their food garden, which had been overgrown with weeds due to the intense winter rains we've had, while others repaired broken furniture, organized shelves, cabinets and whatever else needed to be done!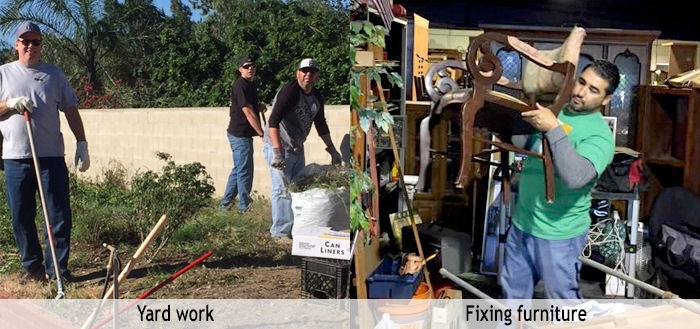 We'd like to give an additional shout-out to our vendor partners who also supported and donated to Heroes Warehouse and who made this day possible: GOJO, Impact Products, Royal Paper, Kimberly-Clark, Rubbermaid Commercial Products, Heritage Bag, Zep, 3M and Genlabs. We sincerely appreciated all the donations!
It was shocking to know that 22 American veterans a DAY commit suicide. Living with what they've seen or done and coming home and try to live a normal life is just too overwhelming for some. Having an organization like Heroes Warehouse helps our veterans know they are not alone and that people do care for them.
Something one of the veteran's said to us on Saturday was to "thank a veteran if you see one, it really means a lot to us" and "don't ever desecrate the American Flag. Too many lives have been lost or wounded to protect that flag." I think we truly have a deeper appreciation for what our service men and women have done for us and continue to DO for us!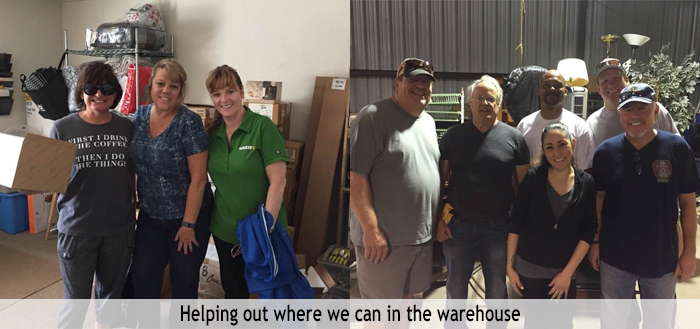 I know WAXIE Ontario will continue to help our local American veterans, and I ask that you see what you can do yourself to support the veterans in your community!
Serving those who SERVED
Making a house a HOME
For more information about Heroes Warehouse: https://www.heroeswarehouse.org/
Stacy Main is a Senior Account Consultant with the WAXIE Ontario branch for the past 18 years. She is an Educational/Municipality Specialist as well as a Specialist for Big Belly Solar Cans. She is actively involved in giving back to the community and/or charities within the Inland Empire, as well as finding opportunities for the Ontario branch to support those in need.