WAXIE Multi-Task Wiping System
Concerned over potential health risks associated to improper sanitizing and disinfecting? Looking for better delivery systems and ways to reduce or mitigate the potential for cross-contamination or infections?
WAXE Multi-Task Wiping System offers a total solution to reduce the risk of cross-contamination and is a more sanitary and convenient method than traditional red bucket and rag protocols. Click here for a more complete comparison.

Features of the WAXIE Multi-Task Wiping System include: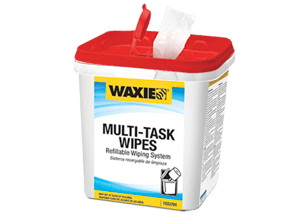 Flexibility to use with the sanitizing and disinfecting solutions which best fit your needs

For use in hospitals, nursing homes, hotels, schools, athletic/recreational facilities/tanning spas, dairies, food processing plants, food service establishments, restaurants, bars, animal quarters and kennels where disinfection, sanitization and deodorization is of prime importance
Buckets
Convenient and easy to use; 100 wipes per roll makes replacement less frequent

Enclosed lid system. Lid nearly eliminates evaporation and reduces risk of contamination

Designated area for chemical resistant secondary label placement

Easy to follow loading and charging instructions
Item number 1033704 4/CS

Wiping Rags
Single-use towels reduce rick of cross-contamination

Strong, 100% synthetic material; adequate displacement of solution to meet or exceed the dwell time needed for solution selected

Large enough to clean two 4-top tables; 11.25" X 10.5" sheet size opened

More efficient than cotton rags or microfiber cloths.
NO quat binding.

The phenomenon of quat binding occurs when the active ingredient (quaternary ammonium chloride) becomes attracted to and absorbed into fabrics. The science behind how this happens is simple: Quats are positively charged ions and cotton and other natural textiles are negatively charged; positive attracts negative.
The result is that at least a portion of the quat does not end up on the surface it is supposed to be cleaning. In fact, one study found that the quat level of a disinfectant remaining on a cotton cloth placed in a solution-filled pail was decreased by 50 percent after soaking for just 10 minutes. That means the solution applied to the surface would contain only half of the parts per million (ppm) listed on the label.
Item number 1033703 100/Roll 6/CS
Chemical Options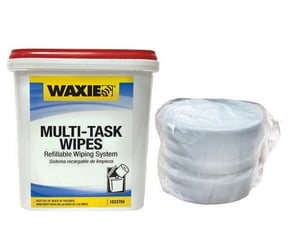 WAXIE 910 Finale FS No Rinse Sanitizer
This 10% quaternary ammonia compound is for use as a sanitizer on dishes, glassware, utensils and processing equipment at 200 ppm active quaternary without a potable water rinse after solution application.
Highly concentrated 1:512 or ¼-ounce to 1-gallon
Kills 99.999% of bacteria in 60 seconds
Phosphate free
Formulated for 3rd sink food contact surface sanitization
NSF D2 registered. No potable rinse required after application of solution
EPA registered sanitizer/disinfectant. 1839-86-14994
No fragrance, no dye
170831 3L 4/CS
170814 GL/CS 4/CS
WAXIE HP Disinfectant Cleaner
A one-step hydrogen peroxide based product for disinfection, cleaning and deodorizing. Cleans quickly by removing dirt, grime, mold and mildew stains, body oils and other common soils found in hospitals, nursing homes, office buildings, schools and colleges, and many other locations. For use on any hard, non-porous washable surface where disinfection is required.
Kills MRSA, Norovirus, and E-Coli
No rinsing required – leaves no residue or film
No Non-Phenyl Ethoxylates (NPE's)
No Quaternary Ammonium Chlorides (Quats) –
Eliminates quat binding, and is safer for occupants
No fragrance or dyes – eliminates potential allergic outbreaks
No Bleach or Paracetic Acid
Meets all state VOC compliant regulations
Highly concentrated 1:64 or 2-ounce to 1 gallon
EPA registered sanitizer/disinfectant – 45745-11-14994
170059 3L 4/CS
170058 GL/CS 4/CS
WAXIE Multi-Task Wiping System Sell Sheet
WAXIE Multi-Task Wiping System SOP's
WAXIE Multi-Task Wiping System Liquid Dwell Study