Just a Minute!
Kills SARS-CoV-2 (the virus that causes COVID-19) in 1 minute.
On September 09, 2020, the EPA approved all three registered WAXIE HP Disinfectant Cleaners.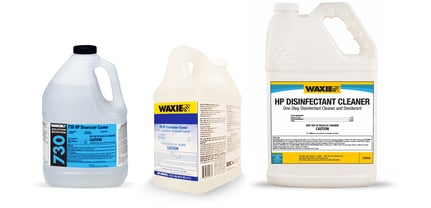 WAXIE HP Disinfectants are a one-step hospital-use germicidal disinfectant cleaner and deodorant designed for general cleaning, disinfecting, and controlling mold and mildew odors on hard, non-porous surfaces when used according to disinfection label directions.
Each of these products is a highly active Hydrogen Peroxide based formula that quickly cleans dirt, grime, mold and mildew stains, body oils and other common surface soils found in hospitals, nursing homes, office buildings, schools and colleges, hospitality and many other locations. Highly recommended for Building Service Contractors because of its single product, multi-function versatility.
HP Disinfectants are:
Cleaner - One step cleaner/disinfectant product makes it easy to use just one product for all daily cleaning tasks. Its unique formula provides the ability to clean many different surfaces, such as bathrooms, glass/mirrors, floors, and even carpet. No rinsing required – leaves no residue or film.
Healthier - No Non-Pheny Ethoxylate (NPE's), No Quaternary Ammonium Chlorides, No Bleach, No Peracetic Acid.
Greener - Super-concentrate reduces environmental disposal impact. One gallon of concentrate makes 65 gallons of RTU disinfectant. That would equal 260 quart bottles of RTU product. It also allows users to reduce SKUs, streamline training & processes, and effectively clean and disinfect in one step. All at a fraction of the cost of RTU products!
Safer - HMIS ratings in RTU solution are 0 - Health 0 Flammability 0 Physical Hazard. No fragrance or dyes – eliminates potential allergic outbreaks. Low VOC's. Meets all state VOC compliant regulations. After being de-activated, breaks to inert ingredients.
Features & Benefits
Kills MRSA, Norovirus, Rhinovirus, Rotavirus and E-Coli and many others
Plastics, Plexiglass Acrylics & Lexan soak testing test performed. No effect.
Non-Dulling to Floor Finishes
EPA registered sanitizer/disinfectant – #45745-11-14994
Listed on EPA List N
Listed on American Chemistry Council/Center for Biocide Chemistries
Each of these products are included in the EPA List N, which is a list of products that are EPA registered antimicrobial products for use against the Novel Coronavirus SARS-CoV-2, the cause of COVID-19.
EPA Registration Number is: 45745-11, and WAXIE's sub-registration number is 14994. Example 45745-11-14994.
Click here to view the EPA approval letter.
https://www.epa.gov/pesticide-registration/list-n-disinfectants-use-against-sars-cov-2
Each of these products are also included in the American Chemistry Council/Center for Biocide Chemistries listing, which is a supplement to the EPA List N, and includes not only master label registered products but also the sub-registered products by specific product name, such as WAXIE HP Disinfectant Cleaner (WAXIE Sanitary Supply, EPA Reg. No. 45745-11-14994) and WAXIE Solution Station 730 HP Disinfectant Cleaner (WAXIE Sanitary Supply, EPA Reg. No. 45745-11-14994).
https://www.americanchemistry.com/Novel-Coronavirus-Fighting-Products-List.pdf
WAXIE SOLSTA 730 HP Disinfectant Cleaner



170059 3L 4/CS
For use with WAXIE Solution Station dispensers.

WAXIE Solution Station dispensers are closed loop systems and utilize tamper-resistant bottles. Not only do they prevent worker exposure to concentrated chemicals but they also ensure the accuracy of diluted product resulting in consistent cleaning and disinfecting performance as well as correct end use costs.
Download the WAXIE SOLSTA 730 Spec Sheet
Download the WAXIE Solution Station Brochure
| | | | |
| --- | --- | --- | --- |
| | | | |
| SOLSTA NEXGEN | SOLSTA FDC | SOLSTA PDC | WAXIE VERSA |
WAXIE 70 Easy Dilution Control (EDC) HP Disinfectant Cleaner
171200 0.5 GL 4/CS
For use with WAXIE EDC Easy Dilution Control dispensers.
Download the WAXIE Easy Dilution Control (EDC) Brochure
Download the WAXIE EDC HP Disinfectant Cleaner Spec Sheet
WAXIE HP Disinfectant Cleaner
Download the WAXIE HP disinfectant Cleaner Spec Sheet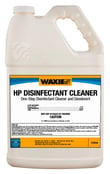 Recommended Process For Use as a One-Step Cleaner/Disinfectant: