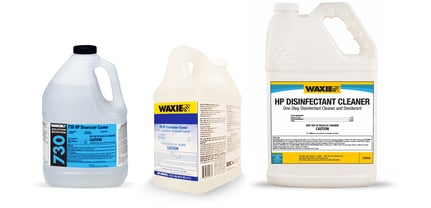 WAXIE HP Disinfectants clean quickly by removing dirt, grime, body oils and other common soils found in hospitals, nursing homes, acute and long-term care facilities, office buildings, schools and colleges universities, day care centers, medical, dental offices, funeral homes, transportation facilities, train depots, bus stations, airports, cruise ships, casinos, correctional facilities, athletic facilities, playgrounds, locker rooms, health clubs, exercise equipment, barber/beauty (salons) (shops), veterinary clinics, pet shops, animal life science laboratories, hotels, motels, public areas and restrooms, foodservice establishments and federally inspected meat and poultry establishments, food processing industrial and commercial buildings only on hard, non-porous non-food contact surfaces.
Features & Benefits
Hydrogen Peroxide Disinfectant Cleaner
For use with electrostatic sprayers
ONE-STEP DISINFECTANT
NON-DULLING TO FLOOR FINISHES
Cleans, Deodorizes, and Brightens in One Step
Fragrance-Free Formula
Evaporates completely
Leaves no visible residue
Kills odor-causing bacteria
Each of these products are included in the EPA List N, which is a list of products that are EPA registered antimicrobial products for use against the Novel Coronavirus SARS-CoV-2, the cause of COVID-19.
EPA Registration Number is: 45745-11, and WAXIE's sub-registration number is 14994. Example 45745-11-14994.
Click here to view the EPA approval letter.
https://www.epa.gov/pesticide-registration/list-n-disinfectants-use-against-sars-cov-2
Each of these products are also included in the American Chemistry Council/Center for Biocide Chemistries listing, which is a supplement to the EPA List N, and includes not only master label registered products but also the sub-registered products by specific product name, such as WAXIE HP Disinfectant Cleaner (WAXIE Sanitary Supply, EPA Reg. No. 45745-11-14994) and WAXIE Solution Station 730 HP Disinfectant Cleaner (WAXIE Sanitary Supply, EPA Reg. No. 45745-11-14994).
https://www.americanchemistry.com/Novel-Coronavirus-Fighting-Products-List.pdf
WAXIE SOLSTA 730 HP Disinfectant Cleaner



170059 3L 4/CS
For use with WAXIE Solution Station dispensers.

WAXIE Solution Station dispensers are closed loop systems and utilize tamper-resistant bottles. Not only do they prevent worker exposure to concentrated chemicals but they also ensure the accuracy of diluted product resulting in consistent cleaning and disinfecting performance as well as correct end use costs.
Download the WAXIE SOLSTA 730 Spec Sheet
WAXIE 70 Easy Dilution Control (EDC) HP Disinfectant Cleaner
171200 0.5 GL 4/CS
For use with WAXIE EDC Easy Dilution Control dispensers.
Download the WAXIE Easy Dilution Control (EDC) Brochure
Download the WAXIE EDC HP Disinfectant Cleaner Spec Sheet
WAXIE HP Disinfectant Cleaner
Download the WAXIE HP disinfectant Cleaner Spec Sheet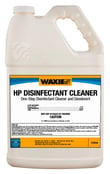 Recommended Process For Use as a One-Step Cleaner/Disinfectant:
| | | | |
| --- | --- | --- | --- |
| | | | |
| SOLSTA NEXGEN | SOLSTA FDC | SOLSTA PDC | WAXIE VERSA |