Impacts of Minimum Wage Increase on the Cleaning Industry
Minimum Wage – A Look Back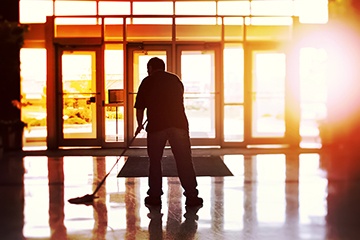 Minimum wage legislation has been a part of the workplace conversation in the United States since the end of the 19th century – and starting in the late 1800's, the efforts of workers' groups, religious leaders, academics, women's organizations, politicians and other reformers have all played a role in having minimum wage laws passed throughout the United States.
Ultimately a federal minimum wage requirement was passed into law by the Fair Labor Standards Act (FLSA) in 1938, and today this legislation continues to establish minimum wage and overtime pay, among other standards of employment in both the public and private sector. Depending on where you live, this legislation is potentially supplemented by state laws or local ordinances which may establish a minimum wage rate for workers in that specific state or local jurisdiction which is higher than the federal standard.
Minimum Wage – Still A Hot Topic
Minimum wage continues to be a hot topic to this day, and has received extensive coverage in the news recently. The topic has been the subject of much debate as to whether or not the minimum wage rate should be increased – and if it is to be increased, when should it be increased, and by how much.
In the past year, several states and municipalities have taken steps to raise the minimum wage to levels above their present standards – and as a matter of fact, 18 states and 19 cities have enacted new minimum wage legislation which will increase pay rates starting in 2018, according to a study by the National Employment Law Project.
Impacts on the Cleaning Industry
No matter where you stand on this debate, and no matter which state or city you work in, there is no doubt that increases to current wage rates will continue to have an impact on the cleaning industry – after all, 80% or more of the typical cleaning budget is devoted to labor, according to the American Institute of Cleaning Sciences, and any increase in the cost of cleaning labor will either necessitate a change in the budget allocated for cleaning, or a change in the way the cleaning function is performed.
So what can be done to mitigate these rising labor cost impacts?
Laborsaving Cleaning Solutions
In a word: analysis.
A thoughtful approach to analyzing current cleaning products and procedures can assist in identifying potential laborsaving cleaning solutions which can help to mitigate the impacts of rising labor rates.
Products: an analysis of your current mix of products is a first step which can be taken to identify areas for laborsaving.
For example, some cleaning chemicals are designed to perform better and faster, delivering a better cleaning result in less time, potentially using less overall chemicals. And some floor finishes and sealers are made to be more durable – extending the time between the need to scrub and recoat the floor or the need for the full blown restorative step of stripping all the finish off the floor.
In addition, some cleaning tools and accessories help to save time in the cleaning process as well – having access to utilize the right tools is always going to help get the job done faster, whether that means a superior floor pad for a scrub and recoat, a higher quality microfiber mop to clean a restroom floor, or a lighter and more effective high dusting tool or accessory. And think about the laborsaving benefits of larger roll towels which need to be replaced less frequently than folded towels.
And finally, mechanization is the best way to get more cleaning accomplished with the same number of people. Whether that means utilizing an autoscrubber instead of a mop and bucket to clean floors, or deploying a piece of equipment designed to optimize the restroom cleaning process while simultaneously improving results while also eliminating the need for the cleaning worker to touch the restroom surfaces, the productivity gains of mechanization are exponential.
The ultimate expression of a fully mechanized cleaning process in the increasing use of robotics – allowing cleaning workers to perform other cleaning tasks while cleaning robots perform their tasks.
Procedures: an analysis of your current cleaning procedures can also ensure that an optimized laborsaving cleaning processes can also be implemented.
Experienced industry consultants can make recommendations for improvement based upon an analysis of current procedures – and then help to implement an effective training program for cleaning staff to ensure that optimized cleaning procedures can be utilized to streamline the cleaning process.
Online training modules can supplement on-site or classroom training seminars – and ongoing assistance and partnership can contribute to opportunities for continuous improvement in cleaning procedures, which in turn help to minimize impacts of rising labor costs.
While the cost of labor continues to rise, the cleaning industry will continue to innovate new laborsaving products and procedures which can help mitigate these impacts – and WAXIE will continue to strive to be your source for these breakthroughs and solutions.