No-Touch, No Problem! No-Touch Hand Hygiene Solutions
WAXIE has everything you need to keep your building occupant's hands clean & healthy–from solutions that meet your basic hand hygiene program needs to state-of-the-art dispensers and formulations.
Getting a Handle on Things
A solid hand hygiene program consists of three main components—wash, dry and sanitize—and there are several options that will help your guests take care of business.
Good
These products are workhorses that get the job done!
WASH – DRY – SANITIZE
Hand Soap & Sanitizer Systems — KleenLine™ by WAXIE Soap & Sanitizer System
The KleenLine Dispenser is a universal dispenser that can hold the KleenLine Foaming Hand Soap, a regular general purpose soap, or the KleenLine Hand Sanitizer refill. There are two hand sanitizer formulations: Ethanol Alcohol and BZK (Benzalkonium Chloride).
The KleenLine Dispenser is available in a white finish.
Paper Towel Dispenser System — WAXIE Electronic Hands-Free Universal Roll Towel System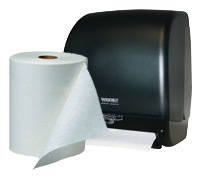 The WAXIE Electronic Universal Roll Towel Dispensing System is super flexible and will cover your basic needs. It's a one-size-fits-all solution for standard types and sizes of paper. The dispenser has a solid cover with essential features that include a locking cabinet to prevent pilferage and adjustable towel length options. This dispenser can fit a variety of different paper towels.
Better
Quality products with additional features to improve user experience. These offerings also contain third-party certified products, which can be incorporated into your facility's sustainability and wellness program.
WASH
Spa-inspired formulas produce thick, fragrant foam soaps with moisturizers, skin conditioners and natural extracts to help maintain skin health. They are all USDA Certified Biobased products and UL ECOLOGO (UL 2784) certified, (with the exception of the Antibacterial Plum Foam Handwash) so they are mild, non-irritating and pH balanced.
Refills are SANITARY SEALED™ so you don't have to worry about cross-contamination, and the CONTROLLED COLLAPSE feature lets you see through the dispenser window when you need to change the refill. They are also made of durable, recyclable PET material that uses 30% less plastic than rigid HDPE bottles.
Dispensers are available in three color options to match any facility's design aesthetic.
DRY
Paper Towel Dispenser System – WAXIE Clean & Soft™ Electronic No-Touch Towel Dispenser System
The WAXIE Clean & Soft™ Electronic No-Touch Towel Dispensing System is the perfect choice to complement the WAXIE Clean Touch™ LX and PURELL® LTX™. It has everything you'd find in a basic universal dispenser, but with additional options for better quality paper towels and a higher capacity paper towel load.
The automatic stub roll ensures that your dispensers never run out of paper towels, you can also choose sheet length, delay between dispenses, and a 'second' towel option that is shorter than the first.
SANITIZE
Hand Sanitizer — PURELL® LTX™ Hand Sanitizer Dispensing System America's #1 Instant Hand Sanitizer.
Similar to the WAXIE Clean Touch™ LX Touch Free Handwash Dispensing System, this PURELL LTX Hand Sanitizer Dispensing System has refills that are SANITARY SEALED™ to prevent contamination and has a SMART FLEX™ bottle design that uses 30% less material than HDPE bottles1. Refills also have a removable pump for easier recycling.
Dispensers utilize GOJO® SMART ELECTRONICS™ technology that minimizes energy use per actuation, eliminating the need to change batteries over the life of the system in most installations. Large sight windows make it easier to see when refills need to be replaced.
52 Week IRI Data ending April 2018; 2017 HPIS Data; Hall & Partners, September 2017 Brand Survey.
Best
Our premium offerings incorporate all of the most recent advances in both handwashing formulations and emerging tech. This next generation of hand hygiene solutions combines touch-free restroom design and smart technology.
WASH
This system builds on the great features & benefits of our WAXIE Clean Touch™ LX System, but with some additional improvements.
Our innovative WAXIE Select™ Boost™ Foam Handwash is formulated for dry and sensitive skin. This hypoallergenic handwash contains 90% biobased/biopreferred ingredients and is made with CLEAN RELEASE™ technology allowing for a faster rinse, which leads to a 6-gallon water reduction per refill compared to regular soap.2
All soap refills that have all been certified by UL ECOLOGO (UL 2784), and several are also USDA Certified Biobased.
The WAXIE Select™ NRG™ Foam Handwashing System also includes a Battery-on-the-Refill, where each new refill comes with its own energy source, a coin cell battery that's incorporated into the actual refill. This battery can easily be removed when recycling the PET refill container and components.
The sleek, modern dispensers are tech ready with Internet of Things (IoT) capabilities and can be integrated into any smart restroom program. Dispensers are also available in three color options to match any facility's design aesthetic.
DRY
Paper Towel Dispenser System — WAXIE Select™ No-Touch Dispenser System
Our newest no-touch dispenser is jam-packed with the latest features—from a 50% increased capacity towel roll (1200' versus the largest roll length that can fit in a Universal Towel Dispenser) to being Internet of Things (IoT) tech ready! It pairs well with any facility décor.
SANITIZE
The PURELL® ES8™ Hand Sanitizer Dispensing System combines everything you love about the regular PURELL hand sanitizers with a revolutionary dispenser design that addresses the two most common service issues which are empty dispensers and worn out batteries! Refills contain a coin cell battery that's integrated into the refill using Energy-on-the-Refill Technology.
The PURELL ES8™ Hand Sanitizer is also available in two different formulations; a Professional version with the standard PURELL formulation; and a Healthcare version that has been specifically crafted to address the frequent use required in healthcare facility settings.
These dispensers are also Internet of Things (IoT) tech ready. They can be upgraded as this technology evolves to track hand hygiene compliance, get product level alerts to your smartphone and more with GOJO SMARTLINK™ plug-in modules.