WAXIE Brand Paper Enhancements
WAXIE has an extensive line of towels and tissues under the Clean & Soft, WAXIE Select, WAXIE-Green and KleenLine brand names. We take great pride in offering a whole spectrum of product types such as certified recycled towels and tissues or high quality products made from virgin pulp for example.
We continually look at ways to enhance our paper offerings such as the recently launched 1957 Clean & Soft Bath Tissue and the soon to be available KleenLine Small Core High Capacity Bath Tissue and KleenLine 5000 Toilet Seat Covers.
As we enter our 75th year in the Sanitary Supply business we will be looking at ways to refresh our image to keep up with an ever-changing market where a clean image is desired. We recently enhanced our graphics on one our top selling items the WAXIE 041 Toilet Seat Covers for example.
Further information, details and specifications on our complete line of paper products can be found below:

New WAXIE 1957 Clean & Soft Bath Tissue (old Super Soft Bath Tissue)
Same quality product and case put-up
Super Soft brand no longer available
Conversion from Super Soft to Clean and Soft completed Jan 1 2020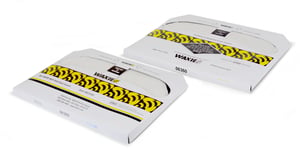 WAXIE 041 Half Fold Toilet Seat Covers new look
No changes to the product, same quality, same case put-up
Conversion in progress now

New WAXIE KleenLine 5000 Recycled Toilet Seat Covers
Conversion from RP-5000 Recycled Seat Covers to WAXIE KleenLine seat covers
Same product, specs, quality, price and recycled content
Conversion in progress now
New WAXIE KleenLine Small-core Bath Tissue
Brand new product
36 rolls of 1,000 sheets standard put-up
3 poly wrapped bundles of 12 rolls
Arriving late April to early May 2020