The Falcon Waterfree urinal is a revolutionary system that:
Saves Water – Up to 40,000 gallons annually per urinal. That's the equivalent of nine tank trucks of water that could be used for more essential purposes.
Reduces Operating Costs – Without flush valves, plumbing emergencies and repairs are eliminated. Waterfree urinals are tamper resistant and cannot clog or flood. Waterfree operation also eliminates 100% of water and sewer costs.
Improves Restroom Hygiene – Independent studies show that waterfree urinals have an average of five times fewer bacteria than water-flushing urinals, plus there are no flush plumes that otherwise spread bacteria.
Reduces CO2 Emissions – Reduced energy demand for transport and treatment of water reduces greenhouse gas emissions.
Several vitreous china models are available that meet ADA requirements and earn LEED/Green Globe credits. Falcon Waterfree urinals are in use around the world, in stadiums and arenas, schools and universities, airports and every type of commercial and institutional facility.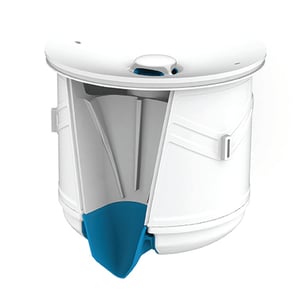 The patented, sealed cartridge is more effective than a standard P trap as a barrier between drain line odors and the open air. The average life cycle is 7,000 uses and utilizes a 100% biodegradable liquid sealant. This cartridge design is the result of extensive research and development initiatives, which have produced the most advanced technology available for waterfree urinals systems.
Falcon Waterfree Foaming Housing Cleaner provides an instant odor block during the cartridge change process while helping clean the urinal housing. Contents are biodegradable and the container is recyclable. One 14-ounce can provides approximately 20 applications.
FALCON WATERFREE TECHNOLOGIES URINAL CARTRIDGE KITS
HYB-1000 Hybrid Urinal (Item #635408)
HYB-1000-RET Hybrid Retrofit Urinal (Item #635411)
HYB-4000 Hybrid Urinal (Item #635413)
HYB-7000 Hybrid Urinal (Item #635409)
WES-7000 Waterfree Urinal (Item #635410)
WES-1000 Waterfree Urinal (Item #635412)
WES-4000 Waterfree Urinal (Item #635414)
FALCON CARTRIDGE KITS & CLEANER
FS-1 Urinal Cartridge Kit 20 Pack (
Item #163502
)