Kaivac OmniFlex Crossover Cleaning
Is the high cost of an Autoscrubber and multiple pieces of floor cleaning equipment keeping you from effectively cleaning your facility?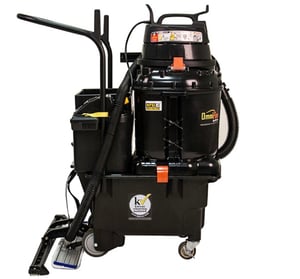 The OmniFlex™ AutoVac™ System
Kaivac Cleaning Systems offers the OmniFlex family of floor cleaning equipment as low cost alternatives which are very simple, effective and fast floor cleaning machines to use. Current models are The OmniFlex™ AutoVac™ System, OmniFlex™ Dispense-and Vac System, The OmniFlex™ Spray-and-Vac System and the OmniFlex™ SUV™.
Available in both corded and battery version, the OmniFlex™ AutoVac is a very versatile machine with a low initial cost that can strip and finish floors, clean restrooms, remove dirt, extract grease and with an extractor wand attached – clean carpeting! With its small footprint the OmniFlex™ AutoVac Battery version is capable of cleaning 20,000 sq.ft. an hour at a significantly lower cost than an Autoscrubber. The OmniFlex™ AutoVac comes complete with a 10 Gallon fresh water tank, a 28 inch drop down squeegee head and a pad and frame for spreading liquid. The optional Lithium-ion battery provides an extended run time without the use of an electric cord. The OmniFlex™ AutoVac is great for daily floor cleaning, stripping and finishing floors and is designed for cleaning hallways, lobbies, cafeterias, gymnasiums, warehousing, shop floors, healthcare, education and retail.
WAXIE Item 577074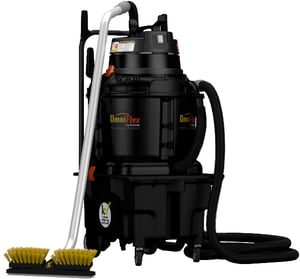 Ominiflex™ Dispense-and-Vac System
The Kaivac OmniFlex™ Dispense-and-Vac Food Services Unit offers a fast approach to quickly clean even the most extremely soiled and greasy floors and grout lines. By applying cleaning solution to the floor, agitating with the brush and vacuuming up all the gross soils the floor and grout is left clean, dry and no longer greasy! The OmniFlex™ Dispense and Vac Food Services Unit comes equipped with a 10 gallon solution and recovery tank, a one piece aluminum vacuum wand with a floor tool that lets you brush, vacuum and clean grout with ease. It is the optimal cleaning machine for facilities that experience high grease situations like food service and institutional kitchens. The OmniFlex™ Dispense and Vac food Service Unit is certified by the National Floor Safety institute for providing high traction. It's perfect for kitchen cleaning and degreasing, restroom floors, cleaning grout lines, and entry ways. Can also be used for spill pick-up, flooding pick up and for picking up floor stripper.
WAXIE Item 577905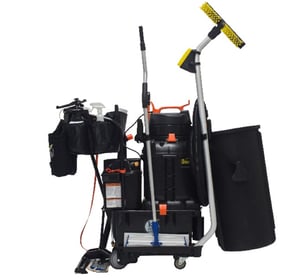 OmniFlex™ SUV™
The OmniFlex™ SUV™ is the premier replacement for the traditional janitor's cart. The cord-free Lithium-ion powered SUV replaces not only the traditional mop and bucket but also dust mops, wet/dry vacuums and in some instances expensive Autoscrubbers. The OmniFlex™ SUV™ also has an innovative on-board trash compactor vacuum wand that reduces trash volume by up to two-thirds by vacuum shrinking it! It's great for daily cleaning of aisle ways, entranceways, gyms, cafeterias and more. Being cord-free allows facilities management to schedule day-cleaning where it may not have been previously possible. Productivity is fast at over 20,000 sq. ft. per hour. It removes 99% of surface soil on all types of hard floors. It comes equipped with a 28" drop down spreader pad and squeegee head and speed spreader that gets the cleaning solution down quickly and efficiently. The SUV has a 10 gallon fresh water tank and built in wet/dry vacuum for quick pick up of cleaning solution. The SUV can be maintained on site and repaired in minutes by the operator – no need for a repair technician. All parts are easily repaired and serviced on site. The OmniFlex™ SUV™ is perfect for restroom cleaning, spill and response pickup, cleaning entrances, daily floor cleaning, remote area cleaning and team cleaning.
WAXIE item 577906