Getting Hospitality & Lodging Buildings Ready To Return.
As areas across the country begin to stabilize from the COVID-19 pandemic, hospitality and lodging facilities are starting to welcome guests and staff back to their properties.
When considering the complexity and sensitivity of this endeavor, we don't have to tell you that there are many aspects to consider – governmental guidance to incorporate, protocols to be reviewed and implemented, and final preparations to be made to ensure your facilities will be as safe and ready as possible for people to return.
WAXIE delivers hand hygiene programs, comprehensive cleaning solutions, surface disinfecting technology, and facility maintenance supplies, combined with industry-specific expertise and consultation to assist with implementation and ongoing support. We stand ready to partner with you to welcome guests, staff, and visitors back to hospitality and lodging facilities which will be cleaner, healthier, greener, and safer.
WAXIE RE6™ HOSPITALITY & LODGING BUILDING RE-ENTRY: 6 STEPS TO OCCUPANT WELLNESS AND PATHOGEN CONTROL
TARGETED HIGH-TOUCH SURFACE DISINFECTION
Guestrooms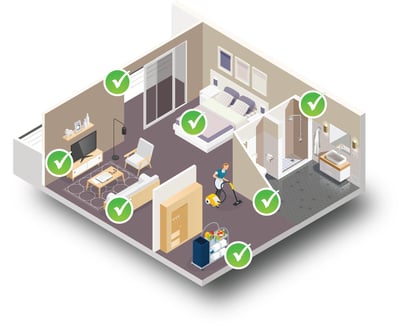 Door handles and knobs
Light switches and lamp switches
Telephone
Remote control
Desks, tables, and chairs
Furniture and furniture handles
Toilets, sinks, and showers – especially handles, counters, and toilet seats
Room accessories – hair dryer, coffee maker, iron, hangers
Food contact surfaces
Housekeeping carts
Waste receptacles
---
Kitchen, Restaurant, and Bar

Door handles and knobs
Light switches
Food preparation surfaces
Eating utensils, flatware, and dinnerware
Tables and chairs
Dispensers – napkins, utensils, paper towels, hand soap, hand sanitizer
Sneeze guards and trays
Waste receptacles
---
Public Restrooms

Door handles and knobs
Light switches
Dispensers – paper towels, hand soap, hand sanitizer, seat covers, feminine hygiene
Fixtures – sinks, flushers, showers, toilet partitions
Toilet seats
Waste receptacles
---
Gym & Spa
Door handles and knobs
Light switches
Hand rails
Tables, chairs, couches and benches
Fitness equipment and lockers
Vending machines
Dispensers – paper towels, hand soap, hand sanitizer
Waste receptacles
---
Lobby, Meeting Rooms & Public Spaces

Door handles and knobs
Light switches
Telephones
Computer keyboards and mouse
Tables, chairs, couches, benches, and pool chairs
Elevator buttons/rails, stair rails, escalator rails
Vending machines
Waste receptacles