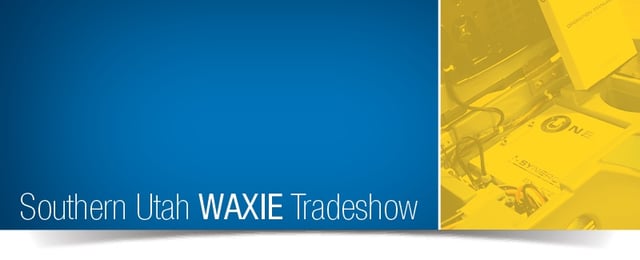 Innovative Cleaning Solutions Tradeshow
10/04/2018 | 10AM – 1PM
Location: Dixie Tech College, 610 South Tech Ridge Dr., Industrial Bldg. B, Rooms B201 & B203, UT 84770
Contact: Lettie Parker or call (801) 886-3700 ext. 605
Description: We would like to thank all of our valued customers for their business. Please join us for a whole day of fun, food, giveaways, vendor displays and demonstrations.
Highlights will include:
New innovative equipment, chemicals and cleaning solutions
Hands-on equipment demonstrations
How to do more with less
Vendor booths and displays
Green solutions and technology
Event is free to attend. Lunch will be provided.
---
WAXIE Salt Lake City, UT

Bloodborne Pathogens & Employee "Right to Know" Seminar
10/09/2018 | 10:00AM – 12:00PM
Location: WAXIE Salt Lake City | 5107 West 1730 South, Salt Lake City, UT 84104
Contact: Lettie Parker or call (801) 886-3700 ext. 605
Description: A general overview of OSHA's Bloodborne Pathogens Standard and who is covered under it. Testing available for training certification.
Exposure control plans –

preventative measures (tasks & procedures) used to eliminate or reduce exposure
Methods of control –

universal precautions, engineering controls, work practices, personal protective equipment (PPE), gloves, housekeeping, regulated waste and laundry
Communication –

conveying the information of hazards to employees
Recordkeeping –

creating and maintaining
OSHA's "Right to Know" Hazard Communication Standard, which reviews:
GHS Standard –

what it is and how to be compliance
Safety Data Sheets (SDS) –

how to read & understand them
GHS formatted labels –

how to read & understand them
Additional topics will include: Possible exposures in the workplace, proper spill cleanup, disinfecting & sanitizing hard and soft surfaces, personal protective equipment, and proper handwashing techniques.
Event is free & lunch will be provided.