Location: WAXIE Boise
Contact: Dan Hammer at (208) 376-8700
Description: All Seminars are from 10:00AM – 12:00PM. You must register online for an event to reserve your seat. All events are free to the public unless stated otherwise.
February 14, 2018: Carpet Care
April 11, 2018: Hard Floor Maintenance & Care
June 13, 2018: Equipment Training – Not Just "How" but "Why"
October 17, 2018: Grand Opening & Customer Appreciation Day
December 12, 2018: Restroom Care
* Event dates, times, and topics are subject to change.


---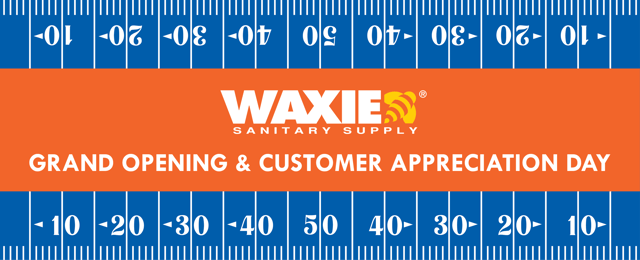 Grand Opening & Customer Appreciation Day
10/17/2018 | 10:30AM – 2:00PM
Location: WAXIE Boise | 6663 South Eisenman Road, Suite 120, Boise, ID 83716
Contact: Lettie Parker or call (801) 886-3700
Description: We've moved and we're excited to celebrate the grand opening of our new location with you! We're kicking events off with an official ribbon cutting ceremony at 10:30am, followed by a vendor trade show.
We have a great day planned filled with food, beverages and raffle prizes (including a chance to win 4 tickets to the Colorado State vs. Boise State University game on October 19). Hope to see you there!
Event is free to the public & lunch will be provided from Goodwood BBQ.