Are cleaning equipment electrical cords getting in your way and causing STF's (Slip, trip and fall) hazards and other safety concerns?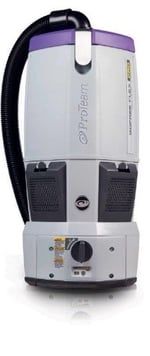 Major equipment manufacturers are transitioning over to battery powered cleaning equipment to eliminate electrical cord trip hazards and to facilitate day cleaning in areas it would be otherwise impossible to do so with corded machines. Most cordless cleaning and vacuum machines with Lithium ion batteries provide extended run times, quiet operation and lighter weight and are able to get in and get the cleaning job done quickly and efficiently (up to 30% more efficient than similar corded units in some cases).
Some of the benefits of cordless cleaning equipment to consider is the ease of use, maneuverability, not being limited to wall socket placement, not having tangled cords and in general higher productivity. Another benefit is being able to use cordless vacuums in areas that generally do not have wall sockets such as extended stair wells and warehouse areas that need vacuuming and detailing as well. There are a variety of cordless cleaning machines to choose from when cleaning stairwells, and other hard to reach areas.
Backpack Cordless Vacuums
Backpack cordless vacuums are designed to be lightweight, ergonomic and can be run for extended periods of time by simply using replacement battery packs. Keep a couple of additional Lithium Ion battery backs charged and ready to go for uninterrupted vacuuming. Insert the discharged battery into the charger while you're vacuuming so that you'll have a spare battery ready to go when you are! No downtime!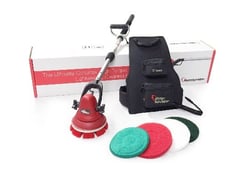 MotorScrubber
MotorScrubber is an excellent example of a small hand held battery powered scrubber that utilizes cleaning pads in varying grits as well as scrubbing brushes to get into areas where it is impossible to get in to with a corded machine. The Motorscrubber is great for scrubbing soiled stair treads, can be submersed in water and has an extension handle for cleaning high reach items. Run time is unlimited by using rechargeable battery packs and always keeping one charged and ready to go.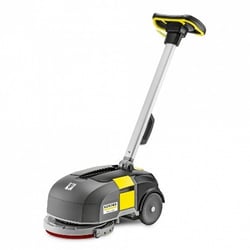 Karcher Walk-Behind Compact Floor Scrubber
The Karcher Walk-Behind Compact Floor Scrubber BD 30/4 C Bp is another example of a battery powered cleaning machine designed to get into tight areas, quickly and efficiently clean and dry the floor without extension cords getting in the way. Suitable for cleaning in small confined spaces such as convenience stores, work kitchen areas, hospital rooms and wherever a small cordless cleaning scrubber is needed.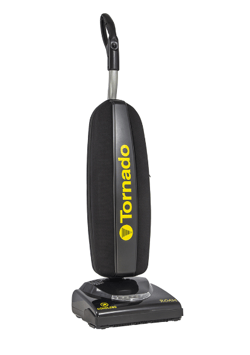 Cordless Upright Vacuums
Cordless upright vacuums are very productive in tight areas where a backpack configuration may not work out due to space constraints or where cords would create a hazard. Cordless upright vacuums are great for use in hospitality, casinos, offices and education and other areas where there is need for a lightweight, quiet (low dBA level) vacuum that is suitable for day cleaning without the cord hassle. Workers morale and output is generally increased due to the ease in which battery powered vacuums are to use, long run times between battery changes and the light weight of the machines.