China Factory Updates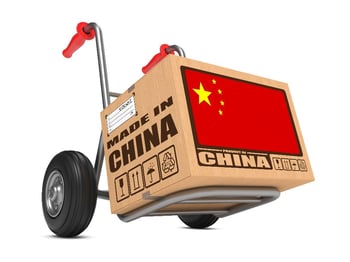 "Made in China" is ubiquitous – a fact of life which we have come to take for granted, and a term which appears on goods and commodities as diverse as electronics, clothing, housewares, as well as several items which are used to clean and maintain our facilities.
Over the course of the last thirty years, China's share of global manufacturing output has increased from around 3% to almost 25%, and the resulting supply chain which has been forged throughout Asia means that almost half of the world's goods are now made in this "Factory Asia".
This shift to Asia has occurred over time because of the lower manufacturing costs in China when compared with other areas, and we as consumers in the United States have grown accustomed to paying less for the commodities which are now predominantly produced there in a business culture which has not traditionally had stringent enforcement of any environmental regulations.
Environmental and Human Health Costs
However, these lower manufacturing costs have not been without their downsides – and the reality is that there have been dramatic environmental and human health impacts which have resulted in extremely poor air and water quality throughout areas in China with heavy manufacturing. A study from Berkeley Earth, a research organization which uses statistical techniques to analyze environmental issues, has found that air pollution now results in almost 1.6 million deaths per year (or approximately 4,400 deaths per day) –and that about 3/8 of the population breathes air which would be considered unhealthy in the United States.
Significantly these impacts have hit the large population centers of Beijing and Shanghai – and as a result of a growing outcry from its citizens along with a desire to demonstrate some action and leadership related to global environmental concerns, the Chinese government has now decided to enforce environmental regulations which will have a huge impact on factories throughout the country.
Factory Shut Downs
Chinese factories have traditionally been powered by coal – and coal is also the primary culprit for the degradation of air quality in the country. China is the world's largest producer and consumer of coal, and the country is responsible for almost half of the world's global consumption of coal. However, the Chinese government has now decided it needs to move away from coal and convert factories to natural gas – and has moved to shut down tens of thousands of factories until they can demonstrate that they are in compliance with new environmental regulations.
In fact, it is estimated that 40% of all factories in China have been shut down as a result of these inspections by environmental bureau officials, and up to 80,000 factories have been subject to fines and criminal prosecution as result of their emissions. Chinese officials have been moving from province to province and making inspections and shutting down electricity and gas for factories until they are confident that air and water pollution concerns have been satisfactorily addressed. Factories typically are not receiving any warning there will be an inspection, and the shut downs are ordered to take place immediately.
Long story short, these shut downs have resulted in late or missed orders because of production delays, constriction of available supplies and manufactured goods because of factories being offline, increased manufacturing costs because of transition to new energy generation, and ultimately higher prices for finished products by the time they make it to the United States.
Ban on "Foreign Garbage"
In addition, the Chinese government has instituted a ban on "foreign garbage" – an action which is having a profound impact on the recycling industry. China has traditionally been the recipient of waste material such as scrap paper, glass, tires, textiles and plastic, and as part of their overall efforts to clean up their air and water, the decision has also been made to ban the receipt of these "foreign garbage" items.
The result of this ban, which was announced to the World Trade Organization on July 18, is a veritable logjam of ships off the China coast with cargo loads full of recycled materials and no dock to off load it to – and an increasing shortage of the finished goods produced with these recycled materials, most notably corrugated boxes.
Cleaning Industry Impacts
These factory shut downs and bans on "foreign garbage" are having a dramatic effect on pricing and availability of several product categories in the cleaning industry – in addition to packaging for all products.
Seat Covers: Perhaps the hardest hit consumable product category is seat covers – which makes some sense when you think about it since the product is comprised of paper (frequently with recycled content) and corrugated packaging, and is produced in factories which have traditionally used coal power. Pricing for these products has surged almost 25% since the beginning of 2017, and supply is expected to be constricted for the foreseeable future which could also lead to ongoing price volatility.
There is an option to source seat covers from the United States – including an option which has earned Green Seal certification – but it is still a more expensive option at this time.
WAXIE will continue to work with its supplier partners to identify sources which will best meet our customers' needs for seat covers, and we believe we are collectively well positioned to manage availability and pricing for the near and long term future. As a result of these partnerships, we do not anticipate any interruptions in quality or availability of supply.