Building cleaning maintenance with a limited budget.
Need to clean and maintain large areas of floor space but are on a limited floor machine budget?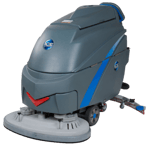 In today's building cleaning environment, it makes sense to mechanize your cleaning processes, upgrade your cleaning equipment arsenal and to streamline your building cleaning processes. Cleaning equipment manufactured today by the major equipment manufacturers are very proficient and can clean large areas in a very short amount of time saving labor dollar expenditures. They are designed to be very easy to operate and have low maintenance costs and are made to last many trouble-free years with a minimum of maintenance.
WAXIE Sanitary Supply in partnership with Intelligent Cleaning Company (I.C.E.) has the answer for you! I.C.E. offers an "All Inclusive Rental Program which allows your company to mechanize your cleaning procedures and rent high quality floor cleaning equipment at very reasonable monthly rates for either a 36-month or 48-month duration. Renting maintenance cleaning equipment instead of making a capital purchase on a limited budget preserves your capital for other much needed projects at your facility. There is no equipment depreciation to contend with and no disposal costs. And with the I.C.E. "All Inclusive Rental" program there are no maintenance cost surprises as all normal maintenance is taken care of by a qualified equipment technician that will be sent to your facility should repairs or maintenance be necessary. The I.C.E "All Inclusive Rental" program includes premium quality I.C.E. equipment as well as the installation of the equipment. Your equipment operators will be thoroughly trained on the proper, efficient and safe use of the equipment. I.C.E. includes service, labor and parts as part of the rental program. All wear items are included as well as batteries. The only exceptions are four squeegee blades per year, pads, brushes, and chemicals for the machine.
How easy is it to rent maintenance cleaning equipment with the I.C.E. Air "All Inclusive Rental" program?
It's very easy to rent on the WAXIE/ I.C.E. rental program. Determine which machine best suits your facility needs based on the machine listing below. Call your account consultant and ask for an I.C.E. rental agreement to get started. Don't have an account consultant? Call (800) 995-4466 and ask for a sales consultant. You can also download a rental agreement here.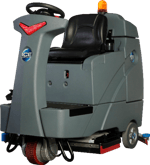 Fill out and sign an equipment rental agreement for the particular machine you have chosen.
1st quarterly payment (first three months) is due upon signing. The remaining quarterly payments are made directly to I.C.E. via automatic withdrawal (ACH) or automatic credit card payment (3.5% fee added for credit card payment)
Want to rent the I.C.E. RS26-AU EMMA 26-IN Robotic Autonomous Battery Scrubber w/AGM Batteries?
Requires the signing of an end user license agreement for the use of Brain Corporation's Autonomous Navigation Software. $8,000 initial upfront payment for autonomous hardware due at signing in addition to the following:

First quarterly payment due at execution of contract to I.C.E.
Subsequent quarterly payments due to I.C.E. each 90 days after execution of contract.
All payments to be made by ACH or by approved credit card (credit card will have a 3.5% convenience fee added)
What machines are available to choose from on the I.C.E. Rental Program and what are the monthly rental rates?
Rider Sweeper / Scrubbers
---
Item#: 620100
Model#: iS1100L-36R
Description: ICE 51-IN Ride-On Sweeper w/Lithium Ion Batteries
36 Month Rental: $478.00

---
Item#: 620101
Model#: iS1100L-48R
Description: ICE 51-IN Ride-On Sweeper w/Lithium Ion Batteries
48 Month Rental: $443.00

---
Item#:620102
Model#: RS-26L-36R
Description: ICE 26-IN Ride-on Battery scrubber w/Lithium Ion Battery
36 Month Rental: $576.00
---
Item#:620103
Model#: RS-26L-48R
Description: ICE 26-IN Ride-on Battery scrubber w/Lithium Ion Battery - 48 month rental
48 Month Rental: $534.00
---
Item#: 620104
Model#: RS26-EMMA-36R
Description: ICE RS-26 AU-AGM Scrubber EMMA Powered by BrainOS - 36 month rental
36 Month Rental: $1,580.00
---
Item#: 620105
Model#: RS32L-36R
Description: ICE RS32 32-IN Rider Scrubber w/Lithium Ion Batteries - 36 month rental
36 Month Rental: $591.00
---
Item#: 620106
Model#: RS32L-48R
Description: ICE RS32 32-IN Rider Scrubber w/Lithium Ion Batteries - 48 month rental
48 Month Rental: $547.00

---

Automatic Walk-Behind Scrubbers
---
Item#: 620107
Model#: i20NBTL-36R
Description: ICE 20-IN Walk-Behind Traction Drive w/Lithium Ion Batteries - 36 month rental
36 Month Rental: $299.00
---
Item#: 620108
Model#: i20NBTL-48R
Description: ICE 20-IN Walk-Behind Traction Drive w/Lithium Ion Batteries - 48 month rental
48 Month Rental: $278.00
---
Item#: 620109
Model#: i24BTL-36R
Description: I-Synergy 24-IN Transaxle Battery Scrubber 30-IN SQG OBC Pad Drive - 36 month rental
36 Month Rental: $308.00
---
Item#: 620110
Model#: i24BTL-48R
Description: I-Synergy 24-IN Transaxle Battery Scrubber 30-IN SQG OBC Pad Drive - 48 month rental
48 Month Rental: $285.00
---
Item#: 620111
Model#: i28BTL-36R
Description: ICE 28-IN Walk-Behind Traction Drive Scrubber - 36 month Scrubber
36 Month Rental: $443.00
---
Item#: 620112
Model#: i28BTL-48R
Description: ICE 28-IN Walk-Behind Traction Drive Scrubber - 48 month Scrubber
48 Month Rental: $410.00
---
I.C.E. Equipment Literature: Click on the link for product information