Modern Luxury – The NXT.GEN Collection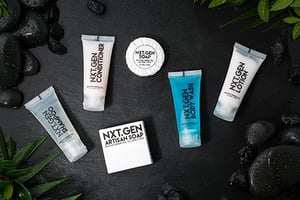 For the Millennials and the NXT Generation; a hip, trendy collection made with all natural oils and ingredients with a sweet cleansing fragrance of Matcha Green Tea, creating a memorable guest experience. This collection has been created to appeal to the independent, boutique properties, especially those looking to embrace a more modern look. This offering features high grade spa-quality products; created with clean, gluten and paraben-free ingredients. Sleek and eye catching with a Matcha Green Tea fragrance – the NXT. GEN Collection provides an option of modern luxury for your guests to enjoy time, and time again.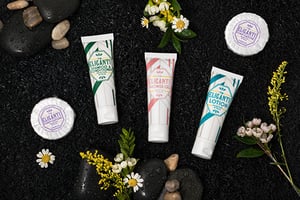 Affordable Luxury – The Eliganti™ Collection
Progettato en Italia – Designed and formulated in Italy, inspired by the rich sophistication of mid-century Europe, classic, clean & rich in the essences of Rosemary and Mint. The Eliganti Collection is an elegant and appealing option of affordable luxury for your guests.
These luxurious product lines also offer the following additional benefits:
•

All liquid formulas are free of parabens, CDEA, and phthalates

•

All soaps are 100% vegetable-based, talc free and biodegradable

•

All products are packaged in recyclable packaging, and are never tested on animals
In addition, we offer "The Necessities" Collection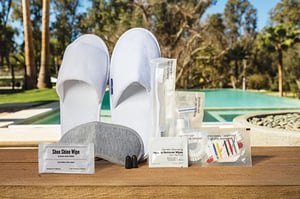 A selection to your guests' away from home needs – whether it be a pair of slippers, a shaving kit, a dental kit or a hair dryer. Those little, simple items that help your guests to feel more at home during their stay.
No matter the décor or clientele of your property, WAXIE has a solution to fit your guests' away from home needs and ensures your guests truly enjoy their away from home experience while staying at your property!
Consult with your WAXIE sanitary maintenance consultant for available programs and details about available customized programs.