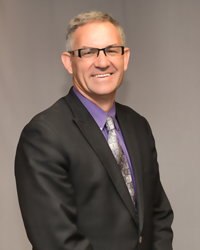 It is with a heavy heart that we announce the loss of one of WAXIE's finest, Jim Fischer. Jim passed away suddenly in his home in Scottsdale, AZ on Monday, May 13, 2019. He leaves behind his wife Jan, and their two children Christian and April.
Jim will be missed. There is a gaping hole in all of our hearts and in the universe with the loss of Jim. The industry will not be the same. Our lives will not be the same. He was a thought leader, a warrior, and a gentle soul. We may never fully know the impact Jim will have on the industry and our lives, but we do know he leaves behind a legacy, one never to be duplicated, and one that we all would be proud of. Rest in peace Jim!
Click here to read A Tribute to a WAXIE Trailblazer: Jim Fischer


---
Jim Fischer, VP, Business Development
Jim Fischer has served as a WAXIE Vice President since 2006. Beginning in 2012, Jim took on the role of Vice President of Business Development and focuses on the acquisition of new business, Vertical alignment of the sales process and enriches our relationships with our strategic Network and vendor partners.

Beginning his WAXIE career over 30 years ago in Arizona as a Warehouse Worker/Customer Service Representative, Jim quickly displayed his leadership abilities and was promoted to Operations Manager within one year from his hire date. Following his promotion, Jim's desire to learn more about the business lead him into Sales from 1991 to 1995 until he was promoted to Sales Manager. In 1996 Jim's promotion to General Manager followed by a promotion in 1999 to Vice President, General Manager of the Arizona divisions, lead him to an opportunity in 2006 to spotlight his visionary talents and serve a more global role with focus on Corporate Accounts and the strategic development of the initiatives, sales, and select customer focus. As the Vice President of Business Development, Jim works in concert with the Corporate Account Directors, General Managers and the Corporate Account Administrative team to strengthen and develop vertical sales initiatives, acquisition of new business, and enhance our relationships with our strategic Network and vendor partners.

Born and raised in Southern Minnesota on the family farm where he learned exceptional work ethics, Jim graduated from Wabasso High School in Southern Minnesota. Following High School he attended Southwest State University where he actively played football.

During his leisure time, Jim enjoys mountain biking, skiing, snowboarding and exercise. He has been active in coaching various Pop Warner football levels in his community.