WAXIE VERSA High Performance Cleaning Caddy Delivers Cleaner Healthier Restrooms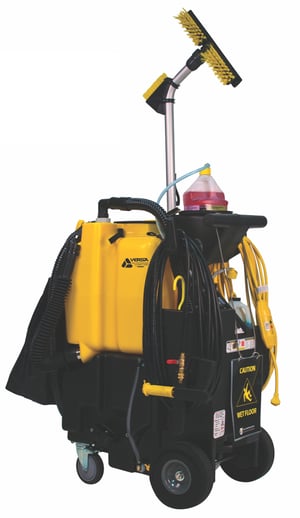 Download the WAXIE VERSA Brochure
The Challenge: Poor Soil and Bacteria Removal
Dirty, unsanitary restrooms are consistently the number one building maintenance complaint. They are often the number one building health hazard as well. That's because a restroom is really a biohazardous waste transfer station – a primary source of disease-causing organisms. Alarmingly, studies confirm that many biocontaminants originating in the restroom ultimately make their way throughout the building. The reality is that you cannot have a truly healthy building if your restrooms are not hygienically cleaned.
Unfortunately, traditional restroom cleaning tools remove very little soil, bacteria and indoor pollutants. Worse, studies show that they often simply redistribute and cross-contaminate, and workers end up crawling around on their hands and knees wiping soiled surfaces and fixtures by hand.
The Solution: WAXIE VERSA High Performance Cleaning Caddy
The WAXIE VERSA is a touchless cleaning system designed from the start to remove the maximum amount of bio-pollution. It combines automatic chemical metering and injection, and indoor pressure washer and a powerful wet vacuum into an integrated cleaning system. Empowering workers to hygeinecally clean without touching contaminated surfaces; it not only cleans better, but also cuts labor, chemical and equipment costs while simultaneously raising worker morale and image.
A recent scientific study compared the cleaning effectiveness of flat mops with the WAXIE VERSA process, measuring bacteria removal in grout lines. The results showed that touchless cleaning was 60 times more effective in removing bacteria from grout lines than mopping – and that mopping was more likely to spread contamination than remove it.
Versatile Whole-Building Cleaning From One Machine
WAXIE VERSA can also help deliver improved hygiene and productivity benefits tto many other areas throughout a facility, such as kitchens, stairwells, hallways, carpets and classrooms. In addition, this versatile machine also accommodates a variety of quick-connecting accessories, providing the capability to clean wet or dry on hard and carpeted surfaces anywhere in the building.
Restrooms
The number one building maintenance complaint today is filthy and unsanitary restrooms because current cleaning tools and techniques do a poor job of roving soil, bacteria and biohazardous waste. The WAXIE VERSA completely removes these contaminants to eliminate odors and reduce the risk of disease. Plus the system offers a much more dignified way to sanitize a restroom – eliminating the need to touch contaminated surfaces or crawl in front of toilets and urinals.
Kitchens
The WAXIE VERSA gets the grease out of grout lines and from behinds stoves, ovens and other kitchen appliances and equipment. Unlike current cleaning tools and techniques, the WAXIE VERSA ensures fresh solution and rinse water is used, preventing cross-contamination from restrooms to food areas. The results are clean, safe and healthy kitchens.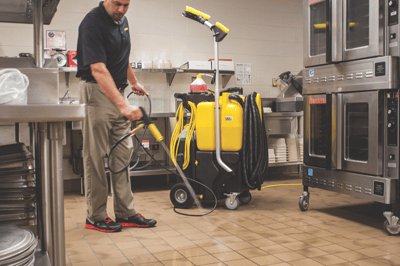 Stairwells
Stair treads, hand rails, ceilings, walls, and corners – stairwells are a haven for soils and bacteria. Unlike current cleaning tools and techniques that pass over these disease transfer points, WAXIE VERSA deep cleans them with a spray gun, brush and blower. Workers can then simply suction up the oiled solution at the bottom of the stairwell.
Hallways
The wide area squeegee on the WAXIE VERSA enables touchless cleaning to clean floors deeply in a way that actually extends the life of floor finish, while simultaneously improving air quality. The process – spray on, vacuum off – allows the finish-friendly cleaning solution to penetrate and float soils for easy removal.
Carpets
WAXIE VERSA quickly converts into a complete carpet care machine for vacuuming, extracting and spotting. For example, the system includes a quick-connect attachment that instantly transforms it into a dry vacuum. The system also quickly converts into an extractor for cleaning carpet and upholstery – and the simple conversion also makes it perfect for quick spotting on routine rounds.
Classrooms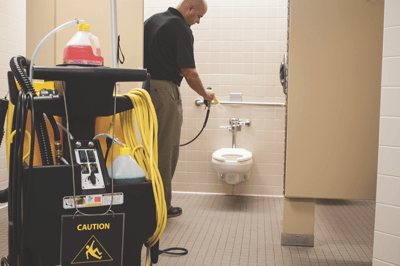 WAXIE VERSA equips the custodial crew for virtually any school cleaning assignment. An array of quick-connecting components equips the system to tackle all kinds of cleaning challenges – including vacuuming, vac-dusting, washing floors and walls, erasing chalkboards and dry erase boards, picking up vomit and spills, cleaning lockers, and much more.
Solution Station
The WAXIE VERSA and Solution Station chemical super-concentrates are designed to dispense ready-to-use solutions for all types of applications in restrooms, kitchens, schools, healthcare and more.
WAXIE provides an effective chemical choice for every cleaning task – whether for cleaning, disinfecting, degreasing or spotting. Each chemical is designed to attack specific soils inherent in a variety of setting throughout the building – and each has been developed to be low-foaming and free rinsing for fast, spot-free drying to perfectly complement a touchless cleaning process.
WAXIE VERSA High Performance Cleaning Caddy
Contact your WAXIE Account Consultant today to schedule a demonstration!