WAXIE Making Strides Against Breast Cancer
Here at WAXIE Sanitary Supply we are passionate about more than just helping our customers find the right solutions to all of their sanitary supply needs. We are also committed to giving back to the community and the fight against cancer is something that touches us all. For that reason, WAXIE is a flagship sponsor in the American Cancer Society's Making Strides Against Breast Cancer event, which raises money for cancer research.

We may have started out small with 18 employees, and their friends & families, from our Corporate Headquarters/San Diego division in 2007 raising a total of $8,394, but we have grown to over 532 participants walking as part of Team WAXIE in 2015 with all WAXIE divisions raising $90,703. This year all of our divisions are participating in local Making Strides Against Breast Cancer events as listed below.
If you'd like to join us, in 2017 we'll be walking in:

We appreciate your support in finding a cure for breast cancer. These funds help to educate men and women about prevention and early detection, information and services provided by the American Cancer Society, as well as research to cure all types of cancer. Remember we all want to celebrate more birthdays for ourselves and loved ones! If you'd like to champion our cause, you can join our team by either walking with Team WAXIE (click on any of the location links above) or by donating to support our walkers.
For more information on Making Strides Against Breast Cancer click here.
Team WAXIE Making Strides Stats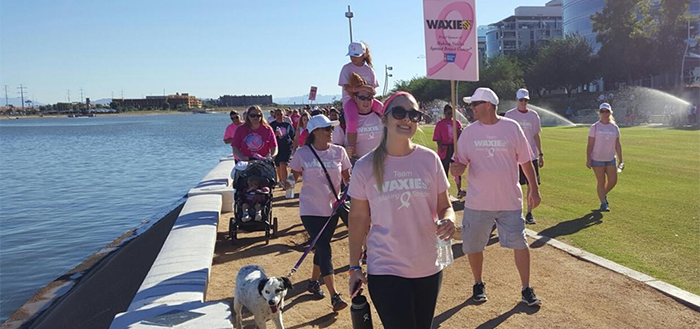 Team WAXIE – Arizona at the Tempe Beach Park Making Strides Against Breast Cancer Walk in 2015.
2007: 18 employees and their families walked raising a total of $8,394
2008: 31 employees and their families walked raising a total of $12,531
2009: 70 employees and their families walked raising a total of $35,124
2010: 165 employees and their families walked raising a total of $75,244
2011: 130 employees and their families walked raising a total of $61,164
2012: 160 employees and their families walked raising a total of $70,000+
(from all three of the WAXIE branches that participated)
2013: 325+ employees and their families walked raising a total of $80,000+
(from all WAXIE branches)
2014: 350+

employees and their families walked raising a total of

$102,459


(from all WAXIE branches)
2015: 532+

employees and their families walked raising a total of

$90,703


(from all WAXIE branches)
2016:

532+

employees and their families walked raising a total of

$105,368.53




(from all WAXIE branches)