Kleenline™ Paper Products by WAXIE
KleenLine products fit a wide range of universal product dispensers and are an excellent combination of quality, economy and a more sustainable profile.
Made from 100% recycled paper collected in the Western United States, these products are made of a minimum of 75% of Post-Consumer Waste (PCW) and are manufactured Processed Chlorine Free (PCF). They are Green Seal and FSC Certified, and they meet the EPA Comprehensive Procurement Guidelines (EPA CPG) for post-consumer recycled content. KleenLine products also meet the requirements of the Leadership in Energy & Environmental Design Existing Building: Operations & Maintenance (LEED® EB:OM) Green Building Rating System.
KleenLine is perfect for schools & universities, office buildings, airports, hotels, healthcare facilities, and any other place that has restrooms!
The KleenLine™ Story
Paper recycled by consumers from schools & universities, office buildings and even homes is collected and then manufactured into 100% recycled bath tissue, kitchen towels, hand towels and napkins. Once converted, these products (such as KleenLine) can then be used in the very schools & universities, office buildings and homes from where they were originally collected – which contributes to helping to "close the loop" for the recycling efforts in the region, and conserving natural resources.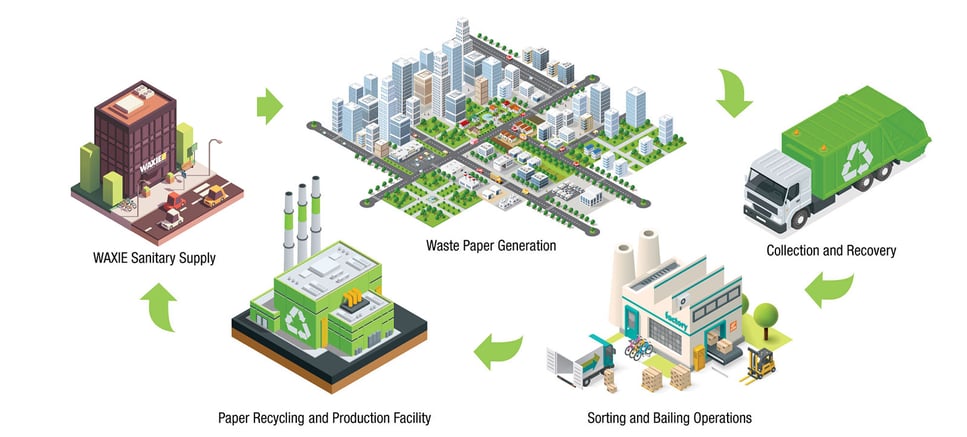 How It Works:
KleenLine paper products are made from recycled waste paper collected in major cities throughout the southwestern United States, made into KleenLine paper, and then distributed by WAXIE back to customers in those same markets.
Waste collection suppliers throughout the American Southwest collect, sort and bale the recovered paper for resale. 30 to 40 trucks daily haul the select fiber back to the paper mill for recycling.
The Paper Maker selects the bales of waste paper finding just the right mix to enter into the recycling process giving a second life to the collected fiber in the form of recycled hygienic paper products like

K

leenLine

.
Manufacturers trucks deliver WAXIE'S

K

leenLine

products made of EPA compliant, Green Seal and FSC certified recycled sanitary towel and tissue products to WAXIE for distribution and then are directed to pick-up more waste paper before returning to the recycling facility, completing the flow in the southwestern United States and thus reducing the carbon footprint.