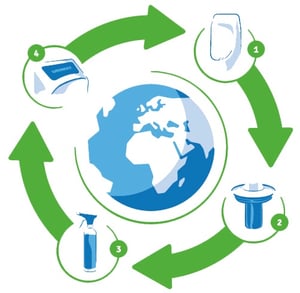 Urimat Waterfree Urinals
Around 71% of the earth's surface is covered by water. But only 0.3% of all water on the planet is available in streams, rivers and groundwater for potential use as drinking water.
Problem: Due to the current drought, most California businesses and residents are now required to scale back their water consumption by 25%.
Solution: Waterless urinals
One water using urinal uses about 100 gallons of water per day in a typical office building. Multiply that average water use by the number of urinals a facility has and businesses could save at a minimum as much as 300 gallons of water each and every day.
The Urimat waterless urinal system is an innovative and functionally designed urinal system that:
Can save as much as 40,000 gallons of drinking water per urinal per year
No water consumption
No flushing systems necessary
Microbiological cleaning system that once germinated by liquid or organics (such as urine) they will use the organics as food, which eliminates odors.
No urine scale build-up, as the MB-ActiveCube is able to completely break down uric acid and avoid uric acid buildup.
Patented Siphon with a Hydrostatic Float ensures that once urine passes through, the unit will seal shut to block out odor and gasses.
The MB-ActiveCap contains a lifecycle indicator. Once it turns red, you simply remove and replace with a new one.
Advertising with Urimat. A potentially high-yield investment
Lifetime warranty
Please Click here for Urimat Flyer 1.0
Please Click here for the 'Cost Benefit Analysis Chart' (Excel Sheet)
Please Click here for the Urimat WIFI brochure
Please installation instructions for 'ECO
Please installation instructions for CompactPlus
Rebates are available, ranging from $200 to $500 per urinal, depending on water district/location. Customers can estimate their rebate by going to: http://socalwatersmart.com/ and plugging in their commercial location.