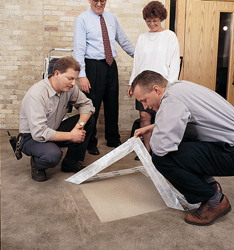 HOST – The Dry Extraction Carpet Cleaning System
The HOST Dry Cleaning System works with low-moisture HOST extraction sponges to quickly and effectively deep clean and remove soil and allergens from carpeting. Depending upon the amount of soiling, apply light, medium or heavy amounts of HOST EXTRA dry carpet cleaner extraction sponges to the carpet. Using the applicator model HA3, the sponges can be applied in a controlled manner to the floor.
Agitate the HOST sponges using either the Freestyle or Liberator extractorVACS. (The Freestyle extractorVAC separates into a deep cleaning machine and a tank vacuum for high dusting and detailing. The Liberator extractorVAC vacuums, spots and cleans larger areas at the flick of a switch.) After agitation, use the Freestyle or Liberator extractorVacs in the extraction setting to pick up the soil and allergen absorbing HOST sponges, leaving carpets virtually dry instantly. HOST dry extraction simplifies carpet cleaning for the employee and reduces maintenance costs.
The system also has available: HOST Prep Traffic Lane Cleaner, which dilutes at 1:4, is used in heavy-soil environments for deep restoration cleaning. The HOST system is safe for people and pets and reduces allergens, dust mites and mold spores in carpet up to 85%!
HOST and HOST "SJ" are:
Green Seal GS-37 Certified

USDA Bio Preferred Certified

HOST is Wool Safe Approved

CRI Seal of Approval
The HOST System of applying HOST Dry Carpet Cleaner to the carpet, brushing it through the carpet and then vacuuming up the HOST Dry Carpet Cleaner removes dirt and reduces allergens. Research studies have shown that one cleaning with the HOST System using HOST Machines reduces: Dust mites by 78%, Dust Mite Allergen by 75%, Cat Allergen by 85%, Mold Spores by 85%. EPA registration #074202-WI-001.