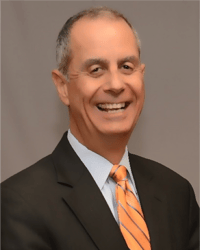 Steve Thomas began his career at WAXIE in 1983 as a sales representative for the San Diego branch, then known as San Diego Janitor Supply. In 1984, Steve received WAXIE's first ever Sales Rep of the Year Award. He was promoted to District Sales Manager in 1986. And even though WAXIE had been in business for 43 years, in 1989 he became only the fourth ever San Diego Sales Manager.
Steve left WAXIE in 1993 to pursue the restaurant business with his family and helped grow the Pat & Oscar's restaurant group to 22 locations in Southern California.
After a fifteen year hiatus, Steve returned to WAXIE as the Director of Corporate Account Implementation in 2008. After a number of roles on the Corporate Accounts team, Steve was promoted to Vice President of Corporate Accounts in 2018. During his 10 years on the Corporate Accounts team, sales through Corporate Account programs grew by a compound annual growth rate of over 12%. Among his accomplishments, Steve is most proud of helping align WAXIE branches and the Corporate Accounts team toward a One-WAXIE vision.
Steve relishes time spent with his five kids. He and his wife enjoy cooking and entertaining. Steve is an avid mountain biker and enjoys craft beer.