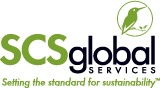 SCS Global Services (formerly Scientific Certification Systems, Inc.) is a trusted leader in third-party environmental, sustainability and food quality certification, auditing, testing and standards development. Third-party certification to SCS' industry-recognized standards enables companies to demonstrate environmental stewardship and sustainability accomplishments with transparent environmental claims.
SCS empowers manufacturers, buyers, and retailers in the cleaning industry to prove market leadership, satisfy supply chain partners, and build your brand by verifying cleaning products with scientifically-backed environmental performance ecolabels, including recycled content and biodegradable certifications.
A professional in the cleaning industry can demonstrate their commitment to conserving and protecting natural resources, meet customer specifications, qualify their products for LEED and environmentally preferable purchasing (EPP) programs, and support sustainability goals by choosing SCS Recycled Content & SCS Biodegradable certifications.
For more information about SCS, please visit www.scsglobalservices.com.
WAXIE has a handful of SCS certified products from which to choose, including trash liners which are certified for recycled content and cleaning chemicals which are certified for biodegradability. Your WAXIE Sanitary Maintenance Consultant can work with you to design and implement a customized green cleaning program which includes SCS-certified products.