---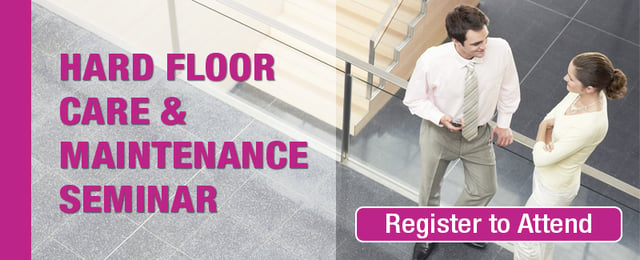 Hard Floor Care & Maintenance Seminar
03/01/2018 | 10:00AM – 12:00PM
Location: UA Tech Park | 9040 S Rita Road, Building 9052 (between parking lots 8 & 9 – click on map), Tucson, AZ 85747
Contact: Rebecca Springer at (520) 629-9699 ext. 201
Description: Terrazzo floors in the lobby, tile & grout in the restroom, concrete floors in the warehouse and luxury vinyl tile everywhere else? Facilities often have different flooring materials depending on the functions of a particular area or room, and as cleaning professionals we're in charge of keeping them all well maintained. But cleaning procedures for granite differ widely from how you should clean a specialty rubber floor.
At this comprehensive seminar we will cover a variety of different resilient flooring surfaces, including concrete, natural stone, VCT (vinyl composition tile), LVT (luxury vinyl tile), etc., and how to clean and maintain them properly. You will also have the opportunity to join the trainers for hands-on experience using floor machines, practicing scrub and recoat techniques, and other procedures.
Featured flooring demonstrations: concrete and VCT (vinyl composition tile).
We'll also go over ways protect your flooring surfaces after you've put in all that time, energy and money into getting your floors looking good, as well as new flooring trends, and labor saving tools, equipment and procedures.
Seminar is free to attend; lunch to follow after the seminar; raffle prizes.
Hope to see you there!