SEPTEMBER 2015 TRAINING EVENTS
2015 WAXIE Customer Appreciation Day & Vendor Trade Show
09/09/2015 | 10:00 AM - 1:00 PM

Location: Petco Park | 100 Park Boulevard, San Diego, CA 92101
Contact: Angie Bennett at (800) 544-8054 ext. 453
Description: Please come and join us for our Customer Appreciation Day where we'd like to celebrate not only our 70th Anniversary, but also our valued customers for allowing us to reach that milestone. Over 65+ of our vendor partners will be in attendance where they will be showcasing their new product lines. This is a great opportunity to check out and compare multiple types of products (from equipment to cleaning products) and ask questions. Can't wait to see you!
---
Equipment Selection: How to choose the right machine for the task
09/16/2015 | 9:00 AM - 11:00 AM
Location: WAXIE Boise
Contact: Dan Hammer (208) 376-8700
Description: Not quite sure what the difference is between a low speed, swing machine, buffer, side by side, polisher or a scrubber is when talking about floor machines? Can you use one machine, like the Windsor TAZ, for cleaning all of your floors including natural stone, tile and carpet? We'll explain what each type of cleaning machine is, what it does, what cleaning products and tools you can use with that machine and general maintenance guidelines to keep it in good shape. We'll also answer any other questions you may have, as well as helping you match the right type of equipment for your facility's needs.
Event is free to attend.
View the flyer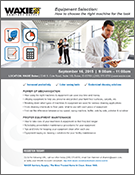 ---
WAXIE Idaho Falls, ID
Tile & Grout Maintenance and Restoration Seminar
09/17/2015 | 9:00 AM - 11:00 AM


Location:
WAXIE Idaho Falls
Contact:
Issac Grijalva
(208) 552-1300
Description:
Floors and walls are the first things that people see when they enter restrooms, restaurants, etc. and make a HUGE first and often lasting impression on customers. We'll go over best practices for everyday cleaning, as well as what you can do when you need to do some more intensive restoration cleaning.
Did you know that bacteria, urine, mold and dirt that get stuck into grout can even lead to odor problems? Learn how to troubleshoot problems like these, as well as what you can do to protect your grout from developing and building up.
Event is free to attend.