Guest Post By: Jim Arbogast, Ph.D., Vice President of Hygiene Sciences and Public Health Advancements, GOJO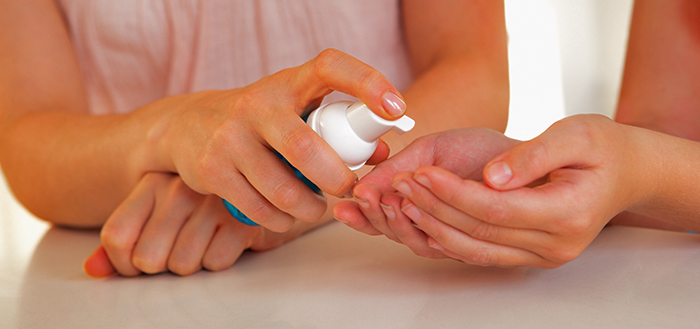 Alcohol-based hand sanitizers play a key role in keeping us healthy – especially as the winter-germ season approaches. In fact, practicing good hand hygiene – handwashing with soap and water or using an alcohol-based hand sanitizer when hands are not visibly soiled – is one of the easiest and most effective ways to stay healthy.

Yet, there are many misconceptions about alcohol-based hand sanitizers, and we wanted to take this opportunity to set the record straight. The following takes a closer look and tells the truth about hand sanitizers.

Truth: Hand Sanitizers DO NOT Cause Antibiotic Resistance
A common myth about hand sanitizers is they can cause antibiotic resistance. The truth is that antibiotics are ingested, and they operate completely differently than alcohol-based hand sanitizers. The alcohol quickly kills a broad spectrum of germs, and it is not left behind on your skin to let the germs become resistant.

According to the Centers for Disease Control and Prevention, the primary cause of antibiotic resistance is the repeated and improper use of antibiotics. 1


Truth: Alcohol-Based Hand Sanitizers DO NOT Cause Supergerms
One of the myths currently out there about alcohol-based hand sanitizers is they can create "super germs." The truth is that ethyl alcohol, the active ingredient in PURELL® Advanced Hand Sanitizers and other alcohol-based hand sanitizers, rapidly destroys the cell membranes and denatures the proteins. It's not left behind to let the germs become resistant or become what some people call "super germs."

Truth: All Germs ARE NOT the Same
There are actually two different types of germs – transient organisms and resident organisms. The resident organisms live on our skin at all layers of the skin. The transient organisms are acquired as you touch something, and they can be transmitted inside your body, or to someone else directly or via other objects touched (i.e. cross-contamination), putting you and others at risk for illness.

Truth: Hand Sanitizers Kill Illness-Causing, or Transient Germs
Alcohol-based hand sanitizers reduce the transient organisms, or the illness causing germs, on your hands. They also reduce the resident organisms, or what some people call the "good germs," but those "good germs" quickly grow back and remain as our normal microbiota.


Truth: All Hand Sanitizers ARE NOT the Same. Formulation matters.
Alcohol-based and non-alcohol-based hand sanitizers are not the same; in fact, they are very different. The truth is that the formulation matters. The active ingredient is important but the total formulation affects the antimicrobial efficacy. The product also has to deliver good skin care performance – at least not damage the skin. And the third important point is that it provides a good sensory experience: it's likeable in use.

Truth: Alcohol-based Hand Sanitizers DO NOT Contain Triclosan
One of the most common myths with hand sanitizers is that they contain triclosan. The truth is that PURELL® Advanced Hand Sanitizer and other alcohol-based products do not contain triclosan. In the United States, the FDA requires that triclosan not be used in products that are left on the skin.

Truth: Using Alcohol-Based Hand Sanitizers DO NOT Dry Your Hands
Many believe the frequent use of hand sanitizers will dry out your hands or your skin. The truth is that formulation matters. PURELL® Advanced Hand Sanitizer has been developed to be used repeatedly without damaging the skin.

The truth is that good hand hygiene, which includes using alcohol-based hand sanitizers, is a strong preventive measure you can take to reduce the spread of illness-causing germs and risk of illness.
The Centers for Disease Control and Prevention. "Antibiotic Resistance Questions and Answers." Retrieved December 23, 2014, from: http://www.cdc.gov/getsmart/antibiotic-use/antibiotic-resistance-faqs.html
GOJO provides information and education on its GOJO website to help businesses promote hand hygiene as a wellness initiative at www.gojo.com/coldandflu and for the public on the PURELL® Hand Sanitizer website at: www.purell.com/coldandflu
Videos and an infographic about these myths and the truth behind them can be found on: http://purell.com/staywell/7-myths.aspx & http://purell.com/staywell/7-myths/myths.aspx
---


Author's Bio: James W. Arbogast, Ph.D. joined GOJO Industries, Inc. in 2002, and became the Vice President of Skin Care Science and Product Development in 2012 and today is the Vice President of Hygiene Science and Public Health Advancements. Dr. Arbogast entered the field of consumer product development after receiving his Ph.D. in Organic Chemistry from the University of California at Los Angeles in March of 1992. Prior to joining GOJO, he gained experience in the consumer products industry with companies including Clorox and Dial.
Dr. Arbogast has been directly involved in the formulation and national launch of hundreds of products in the laundry, air freshening, hair care, skin care, and hand hygiene markets. Under his leadership, the Skin Care Science team has conducted numerous field outcome studies with hand hygiene products to determine their real-world effect on skin condition and infection related rates, as well as microbiology, clinical studies, analytical chemistry, drug stability and new product development.
Dr. Arbogast has made presentations at major scientific conferences, and has authored multiple articles and patents. He has over 20 years of experience in consumer product development with more than the last 13 years focused on skin care. He resides in Bath, Ohio with his wife and three children.