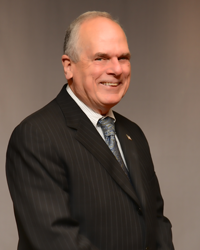 Since 1996, Harry has held the position of Vice President of Corporate Operations/MIS. He is currently responsible for all building projects and facility expansion as well as telecommunications, logistics and fleet operations.
Harry was born in Yuma Arizona and graduated from Hoover High School in San Diego in 1964. Harry enlisted in the United States Air Force and served from 1965-1969. He served with the 11th Armored Cavalry Regiment from 1967-1968 in the Republic of Vietnam as a combat weather observer for combat operations. Harry was awarded the Air Force Commendation Medal for meritorious service in RVN. His other awards include Good Conduct, Vietnam Service and National Defense.
Harry began his WAXIE career in 1976 as the Data Processing Manager and was promoted in 1980 to Operations Manager & Data Processing Manager. That same year, Harry also graduated from San Diego State University with a Bachelor of Science degree in Information Systems. In 1986, Harry was promoted once again to VP Operations/IT. Harry has managed the construction of seven new distribution centers and several lease facility build outs and has overseen several computer and software conversions in his career. Most recently, Harry's accomplishments have included the remodel of the Corporate/San Diego building, the Aplus software conversion and the establishment of a "Hot Disaster Recovery Site".
Harry is currently involved in the USO as a Patron and served on the USO Board from 1996-2009. He supports the annual USO Holiday Concert that supports the USO and the Toys for Tots program sponsored by USMC Reserves.